Trademark Trial and Appeal Board
Patent and Trademark Office (P.T.O.)
*1 STEVE'S ICE CREAM, INC.
v.
STEVE'S FAMOUS HOT DOGS
June 23, 1987
 Opposition No. 70,603 to application Serial No. 447,248 filed October 7, 1983
Cowan, Liebowitz & Latman, P.C. for Steve's Ice Cream, Inc.
Edward G. Fenwick, Jr. and Mason, Fenwick & Lawrence for Steve's Famous Hot Dogs
Before Rice, Sams and Cissel
Members
Member
 Applicant, Steve's Famous Hot Dogs, a Virginia corporation, applied to register the mark shown below on the Principal Register for restaurant services. [FN1]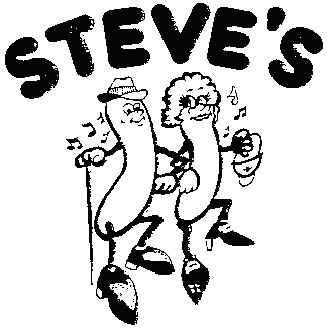 Timely opposition was filed by Steve's Ice Cream, Inc., a Massachusetts corporation. As grounds for the opposition opposer alleged that it has, since 1973, sold ice cream under the mark 'STEVE'S'; that it is the owner of a registration of 'STEVE'S' for 'ice cream for consumption on or off the premises;' [FN2] that it has pending applications to register 'STEVE'S' [FN3] and 'STEVE'S & DESIGN' [FN4] for selling ice cream at retail; that applicant's mark which is the subject of this opposition has been cited as a potential bar to opposer's applications; and that opposer will be damaged by registration of applicant's mark because it would prevent registration of opposer's prior-used marks.
 Applicant's answer was basically a denial that opposer will be damaged.
 Opposer took the testimony of Herbert Goldberg, president of opposer; Daniel Poganski, director of accounting of opposer; and Steven Herrell, who was the predecessor in business of opposer.
 Applicant took the testimony of Steven A. Mullins, president of applicant's company, and John A. Bunge, a market researcher who conducted a survey of food stores and restaurants using the term 'STEVE' or some variation thereof as part of their trade names.
 Priority is not an issue in this case because opposer is relying on its valid and subsisting registration. King Candy Co. v. Eunice King's Kitchen, 496 F2d. 1400, 182 USPQ 108 (CCPA 1974). The sole issue before us is likelihood of confusion. Opposer's pleading does not assert that opposer believes that confusion is likely; instead, opposer asserts it will be damaged by registration of applicant's mark because opposer's pending applications to register will be refused registration based on applicant's registration if it is issued. Neither party to this proceeding specifically asserts that confusion is likely. Based on the record presented in this case, we agree that confusion is not likely.
 Opposer's predecessor in interest began selling ice cream under the mark  'STEVE'S' in Sommerville, Massachusetts in 1973. Use has been continuous through several predecessors to the present user and owner of the registration, opposer, which in 1983 took over sixteen stores in seven states. The mark has been used to promote the sale of opposer's ice cream in many ways, including on signs, cups, hats, t-shirts and in printed publications. Opposer has never sold hot dogs in its ice cream stores and had no knowledge of applicant's hot dog restaurants until just prior to the commencement of this proceeding.
  *2 Applicant began its restaurant business in Salem, Virginia in 1976 and first used the mark in question in March of that year. The business expanded to twelve restaurants, all in Virginia, all of which feature a menu limited to hot dogs, soft drinks and potato chips. Use of the mark has been continuous since 1976. The mark is used in newspaper advertisements, on signs, billboards, t-shirts, cups, etc., and the word 'STEVE'S' is used in radio advertising for applicant's restaurant services. Applicant had no knowledge of opposer or its use of 'STEVE'S' until this proceeding was instituted.
 Our analysis focuses on the marks of the parties and the goods and services they identify. We conclude that, when considered in their entireties, the marks are readily distinguishable, and the goods sold by opposer under its mark differ from the services rendered by applicant under its mark sufficiently so that prospective purchasers would not be confused.
 While this Board and the Courts have held confusion likely in situations where similar marks were used in connection with both restaurant services and food products, there is no per se rule to this effect. In re Central Soya Co., Inc., 220 USPQ 914, 916, (TTAB 1984). 'To establish likelihood of confusion a party must show something more than that similar or even identical marks are used for food products and for restaurant services.' Jacobs v. International Multifoods Corp., 212 USPQ 641, 642 (CCPA 1982).
 As to the goods and services of the parties in the case at hand, while it may well be that ice cream may be served in restaurants, it does not necessarily follow that consumers expect a single source to be responsible for both restaurant services and ice cream. There is no evidence in the record before us that applicant makes or sells ice cream, or that any one business makes and sells ice cream under the same mark in connection with which it renders restaurant services. Without evidence, we cannot simply assume that purchasers expect a common source to provide both these goods and these services, even if the marks used to identify them were identical.
 Moreover, there are obvious differences in the marks here. The design portion of applicant's mark is extremely suggestive of the fact that applicant's restaurants feature hot dogs. The highly stylized depiction of humanized frankfurters, prancing arm in arm to musical notes, creates a distinctive commercial impression. Even with the word 'STEVE'S' appearing above the hot dog figures, applicant's mark is distinguishable from the registered mark of opposer, which is simply the word 'STEVE'S' in block letter form.
 Applicant's market researcher, John Bunge, conducted a survey regarding the use of 'STEVE'S' and derivative like 'STEVE,' 'STEVEN', 'STEPHEN,' and so forth, used as all or part of trade names for restaurants and food stores throughout the United States. Starting with a computer listing of such businesses taken from the electronic classified phone directories offered by Dialogue Information Services, he called a representative sampling and verified that they did business under these names. A total of 226 businesses, 137 restaurants and 89 food stores, was listed. Fifty from each of the two categories were called for verification. Although much of what Mr. Bunge testified to was hearsay (for example, that the business had been in business under the particular name for a certain length of time, or that it did or did not sell ice cream) the survey is competent evidence in support of applicant's contention that many different food and restaurant businesses use 'STEVE'S' or a related term as all or part of their trade names. We can conclude from this that although 'STEVE'S' is not an inherently weak mark, as a highly suggestive or descriptive term would be, the numerous third-party uses demonstrate that the purchasing public has become conditioned to recognize that many businesses in the restaurant and food store fields use the term, or something closely related to it, and that this purchasing public is able to distinguish between these businesses based on small distinctions among the marks. In fact, in the case at hand there is no evidence of actual confusion in ten years of contemporaneous use, even though opposer has promoted its goods nationally.
  *3 In summary, we find no likelihood of confusion in this case based on the differences in the marks of the parties and the differences between applicant's services and opposer's goods.
 Accordingly, the opposition is dismissed.
J. E. Rice
J. D. Sams
R. F. Cissel
Members, Trademark Trial and Appeal Board
FN1. Serial No. 447,248, filed October 7, 1983, claiming use since September 1, 1977.
FN2. Registration No. 1,158,273, issued June 23, 1981; combined affidavit under Sections 8 and 15 accepted.
FN3. Serial No. 468,790, filed March 5, 1984; 1973 use claimed.
FN4. Serial No. 468,789, filed March 5, 1984; 1973 use claimed.