Trademark Trial and Appeal Board
Patent and Trademark Office (P.T.O.)
*1 IN RE HOWARD S. LEIGHT AND ASSOCIATES, INC.
Serial No. 74/361,481
March 22, 1996
Leon D. Rosen of Freilich, Hornbaker & Rosen, P.C. for Howard S. Leight and Associates, Inc.
Teresa Rupp
Trademark Examining Attorney
Law Office 12
(Deborah Cohn, Managing Attorney)
Before Sams, Rice and Hairston
Administrative Trademark Judges
Administrative Trademark Judge
 An application has been filed by Howard S. Leight and Associates, Inc. to register the mark below,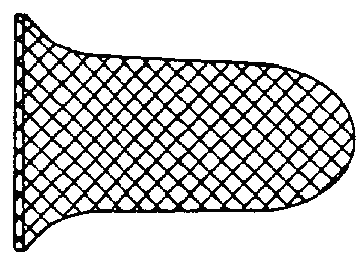 which is described in the application as "an earplug of coral color," on the Principal Register for earplugs for industrial use. [FN1] The drawing is lined for the color orange. Applicant has disclaimed "any rights in the shape of the earplug apart from the mark as shown."
 The Examining Attorney finally refused registration on the grounds that "the color applicant seeks to register serves a utilitarian purpose and as such is de jure functional under Sections 1, 2 and 45 of the Trademark Act," and "if the color is not de jure functional, the applicant has failed to show that the color has acquired distinctiveness as applied to the goods in the application." (Final office action, May 10, 1994)
 Applicant has appealed. No oral hearing was requested, but applicant and the Examining Attorney filed briefs.
 The Examining Attorney contends that the color orange implies safety, and that applicant's reddish-orange earplugs [FN2] serve a functional purpose signifying to purchasers that they are safety equipment. In addition, she argues that reddish-orange is a bright color making applicant's earplugs more readily visible during safety checks.
 In support of the refusal, the Examining Attorney made of record printouts of stories from the Nexis data base referring to earplugs of various colors. Examples of these stories are set forth below:
   ... dapper company president, wearing a maroon shirt, a floral tie, beige slacks and the plant's de rigueur yellow plastic ear plugs, which hang around his neck. He is sipping a diet coke in the conference room off the glitzy main lobby which features ... ("3 Survivors," Nora Tooher, The Providence Journal-Bulletin, October 22, 1991);
   ... employees, working in two shifts, stand along either side of three conveyor belts and stuff the cucumbers into jars. Everyone is dressed in mandatory blue coats (white coats for management types), blue hair nets and fluorescent orange earplugs. No jewelry is allowed for health and safety reasons. ("Snap, crackle, popular," Martha Engber, Chicago Tribune, February 20, 1992);
   ... Gator football game, I plan to proudly wear the school colors--an orange slicker and some blue earplugs--in the true spirit of the event. ("Disgusted with Foul-Mouthed Fans at Gator Game," Margaret Sloane, Orlando Sentinel Tribune, October 26, 1990);
   Cabot Corp.'s Indianapolis-based E-A-R Division, known mostly for its bright-yellow industrial earplugs, is being sold for approximately $100 million in cash and $30 million in securities to a newly formed ... ("Cabot in Deal to Sell Local E-A-R Division," Chris Katterjohn, Indianapolis Business Journal, March 12, 1990).
  *2 In addition, she made of record from the same data base, stories in which earplugs are referred to as safety equipment and stories which mention orange safety equipment, i.e., orange safety vests, orange hats, orange safety cones, orange safety netting, and orange safety reflectors.
 Applicant maintains that its earplugs perform a safety function, not because of their color, but because they protect hearing by blocking noise. Earplugs in any bright color, or color combination, argues applicant, are highly visible.
 Applicant offered the declaration of its President, Howard Leight. Mr. Leight states that the color of applicant's earplugs is not a by-product of the manufacturing process, but is the result of coloring ingredients which add to the manufacturing costs. Also, he states that applicant has made coral earplugs for over six years; that applicant has sold its earplugs to 429 customers throughout the United States; and that for the period 1991-1993 applicant sold 199 million earplugs and its advertising expenses totaled $240 thousand.
 Applicant submitted letters from eight customers, each asserting that it associates coral earplugs with applicant; copies of competitors' advertisements; copies of earplug design patents; and a copy of a cease and desist letter sent to applicant by a competitor, Moldex. Moldex, a maker of green-yellow earplugs threatened legal action against applicant when applicant began selling light green earplugs.
 After careful review of the record and arguments presented herein, we find that the color coral is de jure functional when applied to applicant's goods. Because of their coral color, applicant's earplugs are more readily visible, allowing for easier and quicker safety checks. A promotional sheet distributed by applicant lists as a feature of its earplugs their "[b]right orange-red color for visibility." An advertisement of a competitor states that EXCEL earplugs' "red fluorescent color effectively helps you monitor [employees'] use." Another competitor's advertisement urges use of FOAM FIT'S Sea Foam Green earplugs for high visibility compliance checks." And finally, the advertisement of a manufacturer of white earplugs attached to a red cord touts that the "highly visible cord can make your safety checks a lot easier."
 It is clear from this record that brightly colored earplugs (or cords attached thereto) are more readily visible and that such visibility aids in monitoring for employee compliance with health and safety regulations. Thus, the bright color of applicant's earplugs is de jure functional. See e.g. Krasco Corp. v. Southern Saw Service, Inc., 27 USPQ2d 1501 (TTAB 1993) [Colored wrappers which enable purchasers to quickly distinguish blade types are functional.] Applicant's coral earplugs, being closely akin to orange, the color most often used for high visibility, clearly serve to make safety checks easier and quicker. In this regard, we note the following excerpts from the customer letters submitted by applicant:
    *3 The [coral] color is distinctive in the marketplace and has been a selling feature for recognition of compliance. (Vallen Safety Supply Company)
   The coral color is a unique selling feature from a compliance monitoring standpoint. (Lyons Safety)
 Even if we had not found the color coral to be de jure functional, we nevertheless would affirm the refusal to register on the ground that applicant's evidence of acquired distinctiveness is insufficient to establish that coral has become distinctive of applicant's earplugs.
 This record demonstrates that earplugs come in many colors. In fact, applicant also makes earplugs in blue and green. Where the use of colors is common in a field, an applicant has a difficult burden in demonstrating distinctiveness of its claimed color. See Edward Weck Inc. v. IM Inc., 17 USPQ2d 1142 (TTAB 1990). The evidence submitted by applicant (sales figures, advertising expenditures and customer letters) demonstrates the popularity of applicant's coral earplugs, not that the relevant consumers have come to view coral as applicant's trademark.
 There is no evidence that applicant promotes the color coral as its trademark. In the promotional materials made of record, the only mention of color is in regard to visibility. The cease and desist letter of a competitor who makes green-yellow earplugs does not aid applicant in attempting to show that the color coral has became distinctive of applicant's earplugs.
 In sum, we find that the color coral for earplugs is de jure functional, and even if it were not, applicant has not established that this color has become distinctive of applicant's earplugs.
 Decision: The refusal to register is affirmed.
J.D. Sams
P.T. Hairston
Administrative Trademark Judges, Trademark Trial and Appeal Board
FN1. Application Serial No. 74/361, 481 filed February 23, 1993 asserting first use and first use in commerce on May 1, 1987.
FN2. The Examining Attorney submitted an excerpt from Webster's II New Riverside University Dictionary defining coral, at page 311 as "a deep or strong pink to moderate red or reddish-orange."