Trademark Trial and Appeal Board
Patent and Trademark Office (P.T.O.)
*1 IN RE F.C.F., INC.
Serial No. 74/215,970
March 21, 1994
Hearing: October 26, 1993
Gerald Seegars
Trademark Examining Attorney
Law Office 5
(Mary Sparrow, Managing Attorney)
Before Rice, Simms and Hohein
Administrative Trademark Judges
Opinion by Hohein
Administrative Trademark Judge
 F.C.F., Inc. has filed an application to register the following, which it characterizes as a "rose design," as a trademark for "foundation make-up, eye make-up, lipstick, cosmetic pencil for lips, nail polish concealer, face powder, [and] blush": [FN1]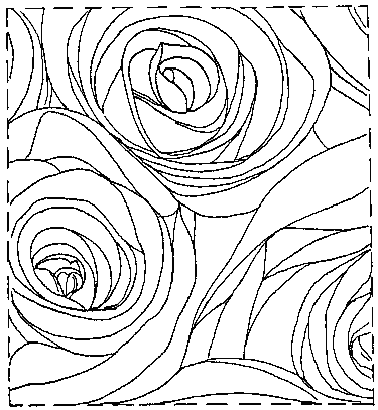 Registration has been finally refused under Sections 1, 2 and 45 of the Trademark Act, 15 U.S.C. §§ 1051, 1052 and 1127, on the ground that, as used on the packaging for the goods which was submitted as specimens of use, the design applicant seeks to register is ornamental and, hence, does not function as a trademark. Specifically, the Examining Attorney contends that "the public would perceive the proposed mark merely as a decorative or ornamental feature of the [packaging for] the goods and not as an indicator of the source of the goods."
 Applicant has appealed. Briefs have been filed and an oral hearing was held. We affirm.
 Applicant, while admitting in its main brief that "[f]lowers are used on perfumes and cosmetics," as well as on a virtually endless list of other goods (such as jewelry, clothing fabrics, dishes, flatware, cookware, stationery, etc.), asserts that its particular rose design is inherently distinctive. [FN2] According to applicant, its "unique and arbitrary design, as presented on an entire line of cosmetics, indicates a single source." Applicant points out that its cosmetics are packaged in relatively small containers, each bearing its rose design, and that such goods, in accordance with the common industry practice of displaying goods from the same source together, are sold in close proximity to each other. Applicant also points out that, as shown by the copies thereof it has made of record, it uses a rose design on such promotional materials as counter pieces, direct mail flyers, product inserts and "complimentary sample" pieces. In consequence thereof, applicant maintains that "[t]he boldness of Applicant's ROSE DESIGN makes it stand out and clearly indicates that the goods are from a single source." [FN3]
 We agree with the Examining Attorney, however, that applicant's rose design is not utilized in an inherently distinct manner on the specimens of record. Instead, such design is employed on the packaging for its goods in a merely ornamental or decorative way, forming simply a background for the display of applicant's "CLARINS" within an oval mark. Applicant's rose design, we observe, covers the entire front and left side of the boxes for its goods, with a similar, but slightly different, rose pattern appearing on the remainder thereof. [FN4] As so used, purchasers and prospective customers for applicant's goods would be unlikely to regard applicant's rose design as identifying and distinguishing its cosmetics and indicating their source.
  *2 In reaching this conclusion, we note (as has the Examining Attorney) that the proper test for determining whether a design is inherently distinctive involves consideration of such factors as whether the design is (i) "a 'common' basic shape or design"; (ii) "unique or unusual in a particular field"; (iii) "a mere refinement of a commonly-adopted and well-known form of ornamentation for a particular class of goods viewed by the public as dress or ornamentation for the goods"; or (iv) "capable of creating a commercial impression distinct from the accompanying words". See, e.g., Wiley v. American Greetings Corp., 762 F.2d 139, 226 USPQ 101, 103 (1st Cir.1985), citing Seabrook Foods, Inc. v. Bar-Well Foods, Ltd., 568 F.2d 1342, 196 USPQ 289, 291 (CCPA 1977). Evaluation of the record in this case, as argued by the Examining Attorney, "is not commensurate with the above standards."
 Specifically, the Examining Attorney has supported the refusal to register by making of record copies of advertisements of various perfumes, cosmetics and other toiletries in which floral designs or patterns are used on the containers or other packaging for the goods. Such evidence includes, in particular: (i) a mail-order catalog from Woodward & Lothrop featuring "DIVA" perfume and dusting powder sold in a flower-bloom covered oval box and "ANAIS ANAIS" body lotion and perfume spray packaged in containers with a flower-blossom label; (ii) an ad for "ANAIS ANAIS" perfume and dusting powder available for flower-blossom containers; (iii) an advertisement for "knock-offs" of ten of the "World's Greatest perfumes" which displays a flower bloom stopper on an "OSCAR DE LA RENTA" perfume bottle and a floral pattern design on the "OPIUM" fragrance packaging; and (iv) an advertisement for a "LE JARDIN" fragrance in a floral design container. Although applicant contends that most of the ads are for perfumes and, consequently, "are not relevant to the issue at hand," we think that the Examining Attorney has submitted a sufficient showing that a flower-bloom motif or blossom design is relatively common, and usage thereof certainly is not unique, in the field of women's perfumes, cosmetics and other toiletries, [FN5] particularly when allowance is made for the difficulty faced by the Examining Attorney in obtaining such evidence. [FN6]
 Because use of a floral blossom theme on packaging for toiletries ranging from cosmetics to perfumes is not unique or unusual, and given the facts that applicant's particular rose design is utilized on the boxes for its cosmetics in such a manner that it is essentially a mere decorative or ornamental background for the display of its "CLARINS" logo and that the matter shown on the drawing is but a part of a rose design which in its entirety covers the overall surface of applicant's packaging, we believe that applicant's rose design, as used, is not inherently distinctive and thus does not function as a trademark. See Anchor Hocking Glass Corp. v. Corning Glass Works, 162 USPQ 288, 291-92 (TTAB 1969) [in view of multiplicity of stylized floral designs on tableware, cookware and the like, Board was "not persuaded that applicant's stylized cornflower design was, at the time of adoption and first use, an inherently distinctive design that achieved instant recognition as a trademark denoting origin" of applicant's coffee percolators and culinary vessels and utensils]. While, at best, applicant's rose design may be unique, in the sense that it is unlike any other floral design, [FN7] and may serve along with the red color of its packaging as an aid in finding applicant's "CLARINS" line of cosmetics, its rose design appears to be no more than a mere refinement of a basic, relatively common and well-known form of decoration or ornamentation for cosmetic packaging and would be so regarded by the public. [FN8] See Wiley v. American Greetings Corp., supra at 103-104 [alleged mark consisting of "a red heart, permanently affixed to the left breast of a teddy bear," even if such a combination could be deemed unique, is simply a mere refinement of a red heart motif which is a commonly adopted and well-known means of ornamentation for teddy bears, other stuffed animals and toys in general].
  *3 Decision: The refusal to register is affirmed.
J. E. Rice
R. L. Simms
G. D. Hohein
Administrative Trademark Judges, Trademark Trial and Appeal Board
FN1. Ser. No. 74/215,970, filed on October 28, 1991, which alleges a date of first use anywhere of April 1, 1991 and a date of first use in commerce of July 1, 1991. We note, however, that the language "nail polish concealer" in the identification of goods set forth in the application appears to be in error since applicant's main brief refers to its goods as including "nail polish, concealer". In the event that applicant ultimately prevails herein, it may wish to submit a amendment correcting such error.
FN2. Applicant, with its main brief, has attached several exhibits thereto which the Examining Attorney, pursuant to Trademark Rule 2.142(d), has objected to in his brief as being untimely and thus not properly of record. Specifically, while the Examining Attorney is not well taken in his objection to Exhibit G to applicant's brief, which constitutes a "CLIENT CARD" product insert which is identical to that previously submitted as item # 3 of applicant's response to the initial Office action, the Examining Attorney is correct in his objections to the additional specimens of use attached as Exhibit D; the list of third-party registrations of "ROSE (DESIGN)" marks for "COSMETICS and FRAGRANCES" appended as Exhibit C; and the printout of information pertaining to the flower bloom design mark of Reg. No. 1,219,606 included as Exhibit U. Nevertheless, we observe that even if we were to consider such evidence, it would make no difference in the result of this appeal. This is because the additional packaging attached as Exhibit D is essentially duplicative of the specimens of record, differing only in such respects as the inclusion of UPC labeling and such verbiage as product name and net weight. Moreover, inasmuch as the Board does not take judicial notice of marks registered in the Patent and Trademark Office, a mere list of alleged rose-design registrations is insufficient to make such third-party registrations of record. See In re Duofold Inc., 184 USPQ 638, 640 (TTAB 1974). Finally, since we have no information as to the file history underlying the allowance of Reg. No. 1,219,606, the existence of Exhibit U does not mandate registration of applicant's design. Each case, instead, must be decided on its own merits. See In re Pennzoil Products Co., 20 U.S.P.Q.2d 1753, 1758 (TTAB 1991). The same is likewise true, we further note, with respect to the floral-pattern design depicted in Reg. No. 1,358,773, attached as Exhibit T to applicant's brief (but not objected to), which is registered for "perfume, cologne, toilet water, soap, body lotion, body powder and dusting powder".
FN3. As applicant's briefs make clear, applicant is not seeking registration under Section 2(f) of the Trademark Act, 15 U.S.C. § 1052(f), on the basis of a claim of acquired distinctiveness, nor would the promotional literature it has made of record be enough to support such a claim. Furthermore, applicant urges that, by virtue of the decision in Two Pesos, Inc. v. Taco Cabana, Inc., --- U.S. ----, 112 S.Ct. 2753, 23 U.S.P.Q.2d 1081 (1992), a showing of secondary meaning (acquired distinctiveness) is not necessary because, like the trade dress of the plaintiff's Mexican restaurant involved therein, its rose design must be regarded as inherently distinctive since it is not merely descriptive. Applicant's reliance on such case, however, is misplaced. Specifically, while Two Pesos stands for the proposition that inherently distinctive trade dress is protectable under Section 43(a) of the Trademark Act, 15 U.S.C. § 1125(a), without proof of secondary meaning, the Supreme Court never discussed the proper test for finding a trade dress (or, analogously, a trademark) to be inherently distinctive. See J. Dillon, Two Pesos: More Interesting for What It Does Not Decide, 83 TMR 77, 82 (1993). The Court, instead, simply noted that both the district court and the court of appeals had "ruled that Taco Cabana's trade dress was not descriptive but rather inherently distinctive, and that it was not functional." In consequence thereof, the Court stated that: "None of these rulings is before us in this case, and for present purposes we assume, without deciding, that each of them is correct". 112 S.Ct. at 2758, 23 U.S.P.Q.2d at 1084. Thus, the only issue decided by the Court was "whether proof of secondary meaning is essential to qualify an inherently distinctive trade dress for protection under § 43(a)." Id.
FN4. Similarly, we notice that applicant's promotional literature employs variants of its rose design, using either a single rose bloom or a multiplicity of rose blooms.
FN5. As suggested by the Examining Attorney in his brief: "Presumably, flowers and roses are used on packaging to indicate that the goods smell as fresh and lovely as flowers do."
FN6. The limited resources of the Patent and Trademark Office obviously constrain an Examining Attorney's ability to acquire copies of advertising from, for example, cosmetic industry trade journals or countertop display cards, and to collect actual samples of representative packaging. See, e.g., In re Loew's Theatres, Inc., 769 F.2d 764, 226 USPQ 865, 868 (Fed.Cir.1985).
FN7. In its reply brief, applicant stresses that its rose design, which would appear to be derived from a photograph of real roses, is an "arrangement of roses in different sizes, facing different directions; it is not a repetitive or wallpaper pattern" of rose blooms.
FN8. We note that the drawing of applicant's mark is not lined for color, that is, the color red is not part of the mark sought to be registered, and applicant would thus be free, if granted the registration sought, to use the design in any color.