Trademark Trial and Appeal Board
Patent and Trademark Office (P.T.O.)
*1 IN RE DEBBIE SAUER
Serial No. 73/822,435
April 23, 1993
Hearing: February 4, 1993
Debbie Sauer, pro se.
Paul E. Fahrenkopf
Managing Attorney
Law Office 15
Before Rice, Cissel and Hohein
Members
Opinion by Cissel
 On August 30, 1989 Debbie Sauer applied to register the mark shown below on the Principal Register for "an oblong shaped ball made of white leather with red stitching at the seams."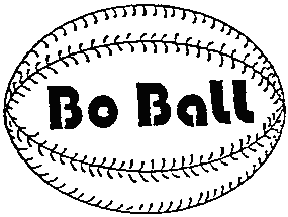 Use since July 12, 1989 was claimed. At the request of the Examining Attorney, applicant disclaimed the word "BALL" and the configuration of the goods apart from the mark as shown.
 Registration has been finally refused under Sections 2(a) and 2(c) of the Lanham Act. Applicant has appealed the final refusals to register. She filed a brief and appeared on her own behalf at the February 4, 1993 oral hearing which was held at her request.
 The refusal under Section 2(a) of the Act is based on the contention that the mark falsely suggests a connection with Bo Jackson, a well-known professional athlete. The refusal under Section 2(c) is based on the contention that the mark consists of the name identifying Mr. Jackson, and thus cannot be registered by applicant without Mr. Jackson's written consent to registration.
 Based on the materials of record in this application, we conclude that prospective purchasers of applicant's balls would mistakenly view the mark in its entirety as suggesting a connection with Bo Jackson. This makes the mark unregistrable under Section 2(a) of the Act. Such purchasers of these products would also recognize the name "Bo," as it appears in the mark on these goods, as Mr. Jackson's name. In the absence of a written consent from him, this runs afoul of Section 2(c) of the Act.
 The record consists of twenty-five exhibits, sixteen of which were submitted by the Examining Attorney and nine of which were submitted by applicant with her brief. Normally we would consider the latter to be untimely under Trademark Rule 2.142(d), but the Examining Attorney has specifically agreed to their inclusion in the record on appeal, so we have considered these exhibits as if they had been properly made of record.
 As the Examining Attorney correctly points out, the test for determining the propriety of a refusal to register based on Section 2(a) has four parts. The mark must be shown to be the same as or a close approximation of the person's previously used name or identity. It must be established that the mark (or part of it) would be recognized as such. It must be shown that the person in question is not connected with the goods or services of the applicant, and finally, the person's name or identity must be of sufficient fame that when it is used as part or all of the mark on applicant's goods, a connection with that person is likely to be made by someone considering purchasing the goods. Buffett v. Chi-Chi's, Inc., 226 USPQ 428 (TTAB 1985).
  *2 The evidence submitted by the Examining Attorney establishes that Bo Jackson is a famous athlete who has played both professional football and baseball. Included in these materials are Bo Jackson baseball cards; Bo Jackson football cards; advertisements for Bo Jackson figurines and toys; a copy of a tag from a Bo Jackson model baseball glove; a copy of a Cheerios cereal box referring to Bo Jackson; and copies of magazines with articles about and cover references to Bo Jackson. These materials show that Bo Jackson is well known and has been a highly regarded collegiate and professional athlete in both baseball and football. The aforementioned evidence establishes that "Bo" is widely recognized and used as Bo Jackson's nickname, which he has had since childhood. He is frequently referred to by "Bo" alone, without any reference at all to his surname.
 Applicant argues that "Bo" is also the given name of several other widely recognized celebrities, such as Bo Diaz, Bo Belinsky, Bo Bo Osborne and Bo Schembechler, and that therefore "Bo" would not necessarily be understood to refer to Bo Jackson. While these other people named "Bo" have been in the public eye to varying degrees, the record does not show that any of them is famous to nearly the same degree as Bo Jackson is, or that any of them is famous as both a baseball and football star like Bo Jackson is. Further, there is no evidentiary support for the proposition that any of the other people named by applicant has ever commercially exploited his or her nickname in connection with the sale of products as Bo Jackson has. [FN1]
 The mark uses Bo Jackson's famous nickname in combination with the generic term "Ball" and the design of a ball which appears to be a combination of a baseball and a football (oblong like a football, but with exposed stitching like a baseball). Applicant's press release confirms this dual nature of the ball. The evidence also confirms the dual nature of Bo Jackson's notoriety as both a baseball player and a football player. The use of his name "Bo" as part of a mark which suggests both kinds of balls on goods like these plainly would be recognized by prospective purchasers of such goods as a reference to Bo Jackson.
 As to the third part of the test, the record does not reflect any connection between applicant and Bo Jackson, nor has applicant claimed that any such connection exists.
 The record is clear that Bo Jackson has achieved great fame and notoriety, so that when his nickname is used as part of the "Bo Ball" and design mark on applicant's goods, purchasers will likely make a connection between him and applicant's products. In that all four parts of the test for refusal under Section 2(a) are met, the refusal is affirmed.
 The refusal based on Section 2(c) of the Act is also well taken. That section prohibits registration of a mark which "consists of or comprises a name ... identifying a particular living individual except by his written consent ..." The section operates to bar the registration of marks containing not only full names, but also surnames, shortened names, nicknames, etc., so long as the name in question does, in fact, "identify" a particular living individual. See, for example: Societe Civile Des Domaines Dourthe Freres v. S.A. Consortium Vinicole De Bordeaux Et De La Gironde, 6 USPQ2d 1205 (TTAB 1988); In re D.B. Kaplan's Delicatessen, 225 USPQ 342 (TTAB 1985); and John Anthony, Inc. v. Fashions by John Anthony, Inc., 209 USPQ 517 (TTAB 1990). A name is deemed to "identify" a particular living individual, for purposes of Section 2(c), only if the "individual bearing the name in question will be associated with the mark as used on the goods, either because that person is so well known that the public would reasonably assume the connection, or because the individual is publicly connected with the business in which the mark is used." See: Martin v. Carter Hawley Hale Stores, Inc., 206 USPQ 931 (TTAB 1979). See also: 1 J. McCarthy, Trademarks and Unfair Competition, § 13.12, (2d ed. 1984) at 618.
  *3 In the case at hand this test is met.         The record establishes that Bo Jackson is widely known by his nickname, and that when his nickname is used without his surname in connection with the goods of applicant, an association between him and the goods or with applicant's business would be assumed by purchasers of such products. His fame as both a baseball player and a football player, and the fact that he has commercially endorsed other products support this conclusion. He has not given applicant his written consent to use and register his name.
 Decision: The refusal under Section 2(c) is therefore affirmed as well as the refusal under Section 2(a).
J.E. Rice
R.F. Cissel
G.D. Hohein
Members, Trademark Trial and Appeal Board
FN1. Applicant's assertion that she took an informal survey as to how the mark is perceived is without evidentiary support. Also, in her brief and at oral hearing, she asked the Office to join her in conducting a survey to confirm that "Bo," as used on these goods, points uniquely to Bo Jackson. The Office is under no obligation to conduct surveys, nor does it have the resources to do so. Moreover, the evidentiary record in a case such as this should be complete prior to appeal. If applicant wished to rely on survey evidence, it was applicant's obligation to commission, and timely submit the results of, a credible survey. Accordingly, the request is denied.