Trademark Trial and Appeal Board
Patent and Trademark Office (P.T.O.)
*1 MCDONALD'S CORPORATION
v.
JOHN L. MCCLAIN
May 23, 1995
Hearing: April 6, 1994
 Opposition No. 86,708 to application Serial No. 74/098, 379 filed on September 19, 1990
Before Rice, Simms and Cissel
Administrative Trademark Judges
Opinion by Cissel
Administrative Trademark Judge
 On September 19, 1990 John L. McClain applied to register the mark "MC CLAIM" on the Principal Register for what were subsequently identified by amendment as "legal and legal consultation services." Applicant based the application on his assertion that he had a bona fide intention to use the mark in commerce.
 Following publication of the mark, a timely notice of opposition was filed on December 23, 1993 by McDonald's Corporation. As grounds for opposition opposer asserted that applicant adopted the mark with the intention of trading upon opposer's fame and its marks; that opposer operates, licenses and services a worldwide system of restaurants; that opposer licenses a wide variety of products and services under its famous marks; that opposer has developed, through widespread and extensive promotion and use, a family of marks distinguished by "Mc" and "Mac" formatives, including fifty-one specified registered trademarks and service marks; that the public readily associates applicant's mark, particularly as used in the form shown below,

with opposer; and that applicant's mark, as used with applicant's services, so resembles opposer's marks that confusion is likely. Applicant denied every claim made by opposer.
 A trial was conducted in accordance with the Trademark Rules of Practice, and an oral hearing was held before the Board on April 6, 1994.
 In view of opposer's valid and subsisting registrations, which applicant has not challenged by counter claiming for cancellation, priority is not an issue. King Candy Co. v. Eunice King's Kitchen, 496 F.2d 1400, 182 USPQ 108 (CCPA 1974). The sole question for our resolution, therefore, is whether confusion is likely. Based on the record before us in this case, we find that it is.
 The record includes the testimony of Roy Bergold, Jr., opposer's Vice President of Advertising, and the exhibits attached thereto, as well as opposer's pleaded registrations and the testimonial deposition, with exhibits, of applicant.
 Mr. Bergold's testimony and its exhibits establish opposer as the owner of a famous family of marks which use the prefix "Mc" in combination with other words to identify and distinguish a wide range of goods and services. The progenitor of opposer's family, "McDONALD'S," was first used in connection with restaurant services in 1955. Since then, marks used by opposer for food services or for food products include "Chicken McNuggets"; "McPizza"; "Mayor McCheeze"; "Egg McMuffin"; "McBoo"; "McChili"; "McFax"; "McBagel"; "McHappy"; "Chicken McSwiss"; "McRib"; "McChicken"; "Mc D.L.T."; "McDinner"; "McDonuts"; "McPack"; "McSnack"; and "McStop." Other members of the family, used on and registered for goods and services which are not necessarily related to restaurant services, include "McClip" for hair-cutting services; "McClass" for computer services; "McCash" for financial services; "McD" for cleaning products; "McBucks" for redeemable certificates; "McBunny" for toys; "McMatch" for games; "McShirt" for clothing; "McGift Shop" for retail store services; "McHat" for hats; "McLots of Fun" for stage productions; "McMasters" for recruiting elderly employees; "McShuttle" for transportation services; "McBear" for stuffed toys; "McKids" for children's clothing sold at Sears retail stores; and "McJobs" for training handicapped people. Many of these marks are used through licensing programs opposer has with other businesses.
  *2 The use and promotion of the marks in opposer's family have been extensive by any standard. In 1991 alone, opposer spent more than half a billion dollars on advertising using its marks in the United States. Worldwide advertising and promotional expenditures were $1,200,000,000.00 for that year.
 The family of opposer's marks has been recognized by this Board and by the courts. Opposer has aggressively enforced its trademark rights against others, not just in the food and food service industries, but also in fields of business distinct from those areas, such as providing lodging and dental services.
 Although applicant's application was filed based on his intention to use the mark, the record establishes that as early as 1990 he had used it in connection with his services. An article appeared in a 1990 edition of a Philadelphia law journal called the Legal Intelligencer, wherein the author refers to "Legal services from a drive-up window?" and states that opposer "welcomes the association the public will make with fast food."
 Opposer's subsequent advertisement (Exh. 15) shows the mark in the following manner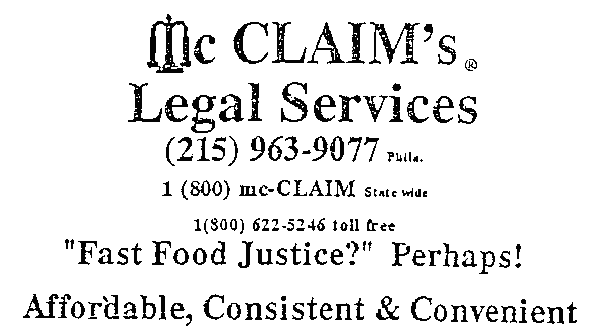 The slogan " 'Fast Food Justice?' Perhaps!" used in applicant's advertising is an obvious reference to opposer's fast food restaurant business. The "scales of justice" design which forms the initial letter "M" is somewhat analogous to the arches design frequently incorporated by opposer in its various marks. An example of the arch design is shown below.

 Applicant's mark plainly resembles opposer's marks, many of which combine the distinctive "Mc" prefix with a suggestive or descriptive term, such as "McClip" or "McCash," for example. "CLAIM" is descriptive or suggestive, as used in connection with legal services, because a claim is what a lawyer pursues on behalf of his or her client. The word identifies a significant characteristic or feature of legal services. Applicant's mark combining "MC" with this descriptive or suggestive term bears a close resemblance to the family of marks of opposer.
 Applicant argues that because opposer does not (indeed, cannot) render legal services or legal consultation services, confusion cannot be held to be likely. In this case, however, in view of the strength of opposer's famous family of marks, and the fact that opposer uses its marks, and licenses its marks, on a wide variety of goods and services, some of which are not at all related to food products or food services, consumers are likely to believe that opposer is connected to applicant's operation in some way, if not directly, then by authorizing or sponsoring applicant's activities. This is especially so when we consider the fact that the customers to whom applicant renders legal services are ordinary consumers--the same class of purchasers to which opposer markets its own products and services. While such ordinary people would certainly not mistake legal services for fast food restaurant services, we think some sort of a connection with opposer would be falsely assumed because of the similarity of applicant's mark to the members of opposer's famous family of "Mc" marks.
  *3 Applicant argues that his own family nicknamed him "McClaim" when he was a small boy. He admits he was familiar with opposer and its marks prior to forming the intention to use "MC CLAIM" as his service mark, but he denies any intention to copy opposer's marks or to trade off opposer's goodwill. He argues that his reference to "fast food justice" in his 1990 advertisement was only responsive to the negative reaction engendered by the article in the Legal Intelligencer, and he denies telling the author that he welcomed the association the public would make with fast food.
 Further, applicant contends that the Board should act consistently with the Examining Attorney in the Patent and Trademark Office, who passed his application to publication, and that the facts that there is no evidence of actual confusion and that opposer did not conduct a survey support his contention that no confusion is likely.
 As to the last two points, it is well settled that evidence that actual confusion has occurred is not a required element in proving that confusion is likely. See: Guardian Products Co. Inc. v. Scott Paper Co., 200 USPQ 738 (TTAB 1979). In this case the extent of applicant's use and promotion of his mark would seem to have provided a very limited opportunity for actual confusion to have occurred. Nor is there authority for contending that opposer had the duty to conduct a survey to buttress its likelihood of confusion claim. Neither party is obligated, in a proceeding before the Board, to spend the effort and expense to obtain such evidence. A survey would be a factor to consider only if one had been conducted.
 Applicant's argument that the Board is somehow required to adopt the Examining Attorney's conclusion that applicant is entitled to registration is also not well taken. Especially in an inter partes proceeding such as this, where we have before us more evidence on the issue under Section 2(d) than the Examiner could possibly have had, including evidence establishing fame and a family of marks, we necessarily have the authority to reach whatever decision is supported by this record. Even in an ex parte proceeding, the Board is not bound by previous determinations made at the examination level. Hilson Research Inc. v. Society For Human Resource Management, 27 USPQ2d 1423 (TTAB 1993).
 On the question of intent, even accepting applicant's position that he has always been called "MC CLAIM" by his family and that the published article referenced above misrepresented his intentions, we still find confusion to be likely. Potential customers for his services would have no way of knowing what his family nickname is or that his own reference to "Fast Food Justice" was intended to be just a response to an article in a legal publication. Much more likely is that consumers exposed to applicant's mark would associate it with opposer because of the characteristics it shares with the members of opposer's family of marks which are used with a board range of goods and services. Applicant's intent, whatever it is, would not alter the fact that consumers are likely to be confused by his mark.
  *4 DECISION: The opposition is sustained and registration of applicant's mark is refused.
J.E. Rice
R.L. Simms
R.F. Cissel
Administrative Trademark Judges, Trademark Trial and Appeal Board