Trademark Trial and Appeal Board
Patent and Trademark Office (P.T.O.)
*1 JOCKEY INTERNATIONAL, INC.
v.
DONNIE T. BUTLER
June 11, 1987
Hearing: February 17, 1987
 Opposition No. 70,575 to application Serial No. 461,975 Filed January 23, 1984.
Jerome Gilson, Pamela J. Johnson, and Willian, Brinks, Olds, Hofer, Gilson & Lione, Ltd. for Jockey International, Inc.
Gregory C. Smith and Pravel, Gambrell, Hewitt & Kimball and Penrose L. Albright for Donnie T. Butler
Before Sams, Allen and Krugman
Opinion by Allen
Member
 Before us is an opposition brought by Jockey International, Inc.  (hereinafter, 'Jockey' or opposer) against registration of the mark reproduced below, for 'clothing--namely, shirts and caps.' [FN1]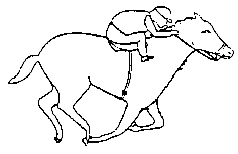 Applicant is an individual, Donnie T. Butler (hereinafter, 'Butler' or applicant). The opposition pleads a single issue, whether the continued use by Butler of his mark is likely to result in confusion, mistake or deception of purchasers in view of Jockey's long and extensive use of the JOCKEY word and design registered marks depicted below on a wide variety of apparel items, including sportswear, underwear and hosiery:

[FN2]


[FN4]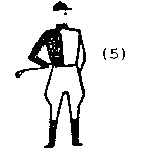 [FN5]


[FN7]

[FN8]
[FN9]
In his answer, Butler generally denied the salient allegations of the opposition.
 The record consists of the file of the opposed application, portions of opposer's discovery deposition of Butler, with ten of the exhibits identified therein, introduced with Jockey's notice of reliance effectively filed Feb. 28, 1986; certified status and title copies of Jockey's pleaded registrations, supra, notes 2-9, showing current status and title in Jockey as of the date of their certification by this Office, introduced with Jockey's notice of reliance effectively filed March 18, 1986; additional portions of Butler's discovery deposition assertedly for the purpose of clarifying parts relied upon by Jockey, [FN10] and certain of Jockey's responses to Butler's discovery requests, introduced with Butler's notice of reliance effectively filed April 30, 1986; trial testimony on behalf of Jockey; and twenty-seven excerpts from printed publications in general circulation, introduced with opposer's rebuttal notice of reliance. Both parties filed briefs and both participated in oral argument of the issues at a hearing held for this purpose.
 Jockey, a Wisconsin corporation, was formed in 1876 under the name Black Cat Hosiery Company, and subsequently changed its name to Cooper's, Incorporated, in the early part of this century. Jockey has been in the apparel business continuously since its inception, and has used the trademark JOCKEY in connection with the promotion and sale of a wide variety of sportswear and apparel items since 1934. In 1972, opposer's name was changed to Jockey International, Inc.
 Over the years, Jockey's product lines have expanded to include numerous items of men's and women's sportswear, swimwear, underwear and hosiery. Its line of JOCKEY brand sportswear, for example, includes tennis wear, warm-up suits, sports shirts, shorts, jackets and sweaters. Jockey's products are extensively advertised in newspapers and magazines and on television, and are sold in major department stores and retail outlets throughout the United States.
  *2 Opposer first adopted and used the JOCKEY would trademark in 1934, and began using a pictorial representation of a jockey, reinforcing the original word mark, in 1940. Although all of the above depicted versions of the jockey design mark are the subject of subsisting registrations, opposer's testimony establishes that the predominant logo presently in use for shirts, shorts and socks is the half-length stylized drawing of a jockey, subject of Registration No. 711,570, i.e. the one used on sport shirts, sport shorts and socks such as the actual samples of these items introduced as opposer's exhibits 30, 31 and 33. [FN11] The presentation of the mark on the labels and hangtags of these garments is depicted below: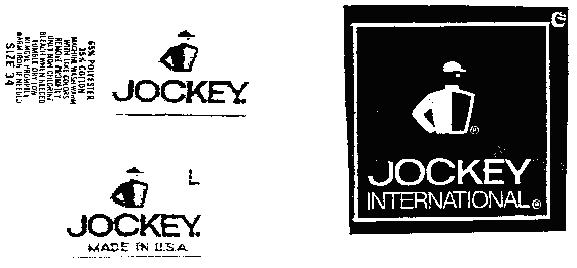 The jockey design mark is also applied to the garments themselves. For example, on the sport shorts, the same jockey design as the one depicted above is embroidered on the left leg.
 Jockey maintains a staff of approximately 77 salesmen who cover all fifty states, selling exclusively JOCKEY brand apparel products. Each salesman has a specific territory in which to cultivate business with any outlet which might carry JOCKEY brand products. JOCKEY products are marketed at retail through approximately 10,000 different outlets throughout the United States, including department stores such as Carson Pirie Scott, Raleigh's, Macy's, Burdine's, Marshall Field's, and Broadway, as well as men's and ladies' specialty shops, among others. In department stores, where a large percentage of JOCKEY brand products are sold, JOCKEY products are typically displayed on self-service shelves or racks which stand on the sales floor.
 In addition to the JOCKEY word and design marks which are illustrated above, opposer also uses the familiar JOCKEY Boy statuette, carrying the JOCKEY logo type, to symbolize the availability of JOCKEY brand products in retail outlets across the country. The JOCKEY Boy statuette, has been used continuously since 1940, in two versions as depicted below: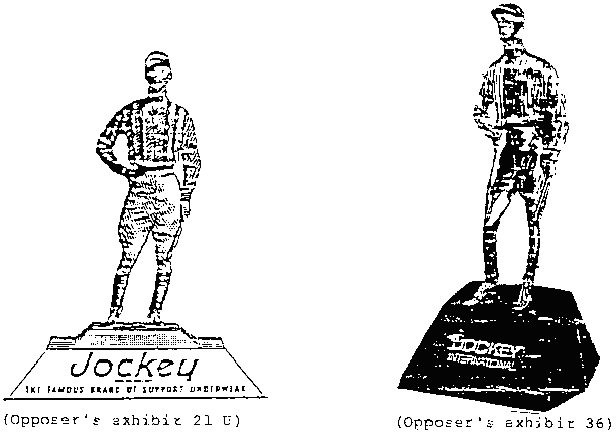 The statuettes have been and are used for various promotional purposes, including point of purchase displays. [FN12]
 JOCKEY brand products are prestige products of high quality. They come in a striking array of bold colors, patterns, designs, fabrics and styles, and are purchased by all types of consumers, many of whom have developed substantial brand loyalty to JOCKEY. There are no restrictions on purchasers as to age, income or sex.
 Sales of JOCKEY brand products represent an important measure of the renown and value of the JOCKEY word and design trademarks. During the past ten-year period, sales in the United States under the JOCKEY word and design marks have steadily increased as follows:
Year  Sales Under JOCKEY Trademarks
----  -----------------------------
1975       in excess of $70 million
1976       in excess of $75 million
1977       in excess of $80 million
1978       in excess of $90 million
1979       in excess of $95 million
1980      in excess of $100 million
1981      in excess of $105 million
1982      in excess of $110 million
1983      in excess of $125 million
1984      in excess of $130 million
1985      in excess of $140 million
*3 Of these sales approximately 12 to 14 percent (e.g., from $16 to $19 million in 1985) are for products in the JOCKEY sportswear line.
 Opposer's promotional activities are as diverse as they are extensive. It has advertised JOCKEY brand products in newspapers with national distribution and in magazines such as Time, Sports Illustrated, Vogue, Esquire and Playboy. In addition, Jockey also advertises on television and radio, and is engaged in an extensive cooperative advertising program in conjunction with retailers across the country.
 In addition, opposer has long used the JOCKEY word and design marks on promotional items such as posters, hats, luggage tags, tape measures, key rings, pens, pencils and matchbooks, among others. Especially relevant here is a half-mesh, half-solid, fabric baseball hat, bearing the word mark JOCKEY, the half-length stylized jockey design, and the slogan, 'More than a name, a commitment.'
 Butler took no testimony and the only evidence introduced with his notice of reliance concerned Jockey's activities rather than his own. Consequently all we know is what is in the file of the opposed application and what is disclosed in the portions of Butler's discovery deposition introduced by Jockey.
 Butler's apparel business is a sidelines, [FN13] operated out of his residence and the residences of three personal friends in Arizona, Florida and New Orleans, Louisiana who sell his products. Butler's father-in-law also makes sales calls in New Orleans from time to time. The business began in December of 1983. Butler does no manufacturing and purchases the shirts and caps from suppliers who embroider into them the design which is the subject matter of the application for registration based on a design which Butler created. Butler's products are sold primarily through retail outlets such as department stores, gift shops and racetrack shops.
 The only information concerning Butler's volume of sales are 30 sales receipts representing sales of some 383 shirts from December 10, 1983 to July 2, 1985 which represent all of his sales of shirts. Only a few caps have been sold in New Orleans. The only use by Butler of the design is the machine-embroidered design on the front of the sport shirt and the applique (depicted below) sewn on the front panel of the cap: [FN14]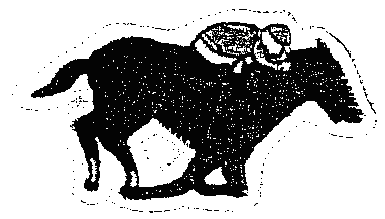 Whereas on the drawing in the application, the mark is shown only in outline, on the specimen hat, the horse design is shown in brown, the rider's silks in blue and white and the rider's boots in black. On the sport shirt the colors are brown, red and white. Butler testified that three or four other color combinations are used, depending upon the color of the shirt.
 During Butler's testimony, and in his brief, the design is described either as the 'thoroughbred mark' or the 'rider on horseback.' In fact, Butler took the position in his testimony that the rider on the horse is not known as a jockey. The relevant portions of the transcript are set forth below:
    *4 BY MR. GILSON (for opposer):
   Q. When you say 'thoroughbred mark' you are referring to the jockey on horseback as shown in Exhibit 2 and 3?
   BY MR. SMITH (for applicant):
 Let me just say that that's your characterization of the jockey on horseback mark. Not necessarily agreed to [by] Mr. Butler and myself. We call it the thoroughbred mark or the rider on horseback as opposed to jockey on horseback. (Butler deposition, 19)
   BY MR. GILSON:
   Q. Mr. Butler, is it your testimony today that the rider on the horse in the trademark is not known as a jockey in business?
   A. That is correct.
   Q. Is rider a term which is used in the horse racing magazine to describe jockeys?
   A. The industry refers to them as riders, boys, exercise boys. I think probably the--strictly an opinion is that the spectators or racing fans know the riders as jockeys and I can't say that the term jockey is not used from one time or the other by a horseman but if you--when you employ someone to ride your horse you employ a rider. (Butler deposition, 47.)
 This testimony prompted Jockey to file with its rebuttal notice of reliance a number of excerpts from magazine and newspaper articles about horseracing in which the term 'jockey' appears to identify individuals such as the one depicted in Butler's design. These exhibits do indeed illustrate that persons on horseback dressed in silks are commonly known as 'jockeys.' Some of this evidence also illustrates that the term 'rider' is also used, interchangeably, with 'jockey' to identify such persons. (See, e.g., opposer's exhibits 40, 45 and 49.) The last exhibit, contains an article, about the famous jockey, Bill Shoemaker, published in the May 12, 1986, issue of Newsweek, wherein the lead sentence provides an excellent example of the terms' interchangeability:
   He is perhaps the greatest rider who ever raised a whip, but in the lore of the Kentucky Derby, he has always been known as the jockey who misjudged the finish line. (Emphasis added).
Of course, as opposer points out in his reply brief, 4 (note 1), 'that the figure might be characterized as a 'rider' in no way diminishes the fact that it is also commonly known and referred to as a 'jockey'.' Accordingly, Butler's and counsel's 'characterization' of the design as a 'rider on horseback' aside, there is no question that a substantial number of prospective purchasers of Butler's goods would recognize the design as a 'jockey on horseback.' [FN15]
 The only contested issue before us is whether the design subject of Butler's application for registration so resembles the JOCKEY word and design marks as to be likely when applied to his goods to cause confusion, deception or mistake. [FN16] The relevant factors are discussed below:
(i) Similarity or Dissimilarity of the goods; Their Channels of Trade and Purchasers.
 In determining this question in a proceeding concerning registrability, we are obliged to consider the identifications of goods set forth in the relevant application and/or registrations regardless of what the record may reveal as to the particular nature of the parties' goods, their actual channels of trade, or the class of purchasers to which their sale is directed. E.g., Miles Laboratories, Inc. v. Naturally Supplements, Inc., 1 USPQ 2d 1445 (TTAB 1986), and cases cited therein. Under this criterion, in that applicant's goods include, inter alia 'shirts,' unlimited as to type, and Jockey's goods in the identifications of goods of its registrations include undershirts (Reg. Nos. 391,692 and 509,364); T-shirts (Reg. Nos. 509,364, and 1,145,086), sport shirts (Reg. Nos. 509,364, 768,840, 816,662 and 1,145,086), sweat shirts (Reg. Nos. 711,570, 768,840), warm-up shirts (Reg. No. 1,145,086), and underwear (Reg. Nos. 391,692, 509,364, 711,570, 768,840, 957,864, and 1,177,403), the goods of the parties must be considered legally identical. Also, absent any limitations in the parties' identifications, the goods must be assumed to move through all normal channels of trade for goods of this type and to reach all normal purchasers and users. Id., 1 USPQ 2d at 1450.
  *5 In fact, the record before us confirms that the parties' goods are inter alia, identical in kind and that their channels of trade and relevant class of purchasers are the same.
(ii) The Conditions Under Which and Buyers to Whom Sales Are Made.
 The purchasers of these products are ordinary persons, having no special expertise or sophisticaton in their selection of them.
(iii) Fame of the Prior Mark
 The record before us establishes beyond any doubt that JOCKEY word and design marks are famous trademarks in the field of clothing. Accordingly, that the propensity of consumers to associate a relatively unknown mark with one which is well known to them increases the likelihood of confusion or deception is an important factor in opposer's favor. E.g., Specialty Brands, Inc. v. Coffee Bean Distributors, Inc., 748 F.2d 699, 223 USPQ 1281, 1282 (Fed. Cir. 1984); Finn v. Cooper's Incorporated, 292 F.2d 555, 130 USPQ 269 (CCPA 1961).
 Applicant's effort to denigrate the importance of this factor by suggesting that sportswear, representing only 12 to 14 per cent of Jockey's sales, are the only products relevant to the likelihood of confusion issue here, is to no avail. To be sure, a mark's fame may not extend to all of its products. See, e.g., Harley-Davidson Motor Company v. Pierce Foods Corp., 231 USPQ 859 (TTAB 1986)[HARLEY-DAVIDSON and HARLEY deemed famous marks in field of motorcycles and accessories but not necessarily for other collateral goods sold largely through Harley-Davidson's licensees.] However, in the case before us, whereas applicant's caps and sport shirts are sportswear, identical to registrant's sportswear line, related goods are also relevant.
 In regard to the above, there is little doubt that the product most responsible for the fame of the JOCKEY word and design marks is the JOCKEY brand 'Classic' brief for men, the 50th anniversary of which was celebrated in 1984. (Opposer's exhibit 25.) While not considered sportswear, this product has been and is perceived by purchasers to be closely related to sportswear for a number of reasons. In the first place, the 'Classic' brief, a major design breakthrough in underwear in the 1930's, had two features, namely, the European swimsuit design and a unique Y-front providing support, which rendered the garment especially suited to being worn by boys and men underneath sports apparel, e.g. tennis shorts, while engaged in sports activities. In the second place, because of these features, JOCKEY brand 'Classic' briefs and other goods in Jockey's underwear line have long been promoted through advertising in which prominent sports figures are featured. Accordingly, the fame of the JOCKEY trademark over its entire line, i.e. sportswear and underwear, is relevant to the likelihood of confusion issue here.
(iv) The Number and Nature of Similar Marks in Use on Similar Goods.
  *6 No third-party use evidence having been presented, we conclude that the JOCKEY word and design marks are arbitrary in nature as well as famous. This is also a factor which broadens the scope of the marks' protection and the propensity of purchasers to be confused when confronted with similar marks of others. Finn v. Cooper's Inc., supra, 130 USPQ at 272.
(v) The Similarity or Dissimilarity of the Marks.
 In arguing that the marks are too dissimilar to result in the likelihood of confusion, applicant emphasizes that the most significant feature of its mark is the thoroughbred horse in full stride, that the horse is the major component of the mark, and that, therefore, the marks are so dissimilar as to not be likely to cause confusion. Obviously if the commercial impression Butler wished to convey was that of a thoroughbred horse, he might have adopted a design consisting, merely, of a thoroughbred horse in full stride. Horses, after all, are known to run with or without riders, whether the riders are jockeys or not. However, Butler did not do this. Instead, he adopted a design which also incorporated a jockey and, in doing so in the field of wearing apparel, increased the significance of the jockey portion in the perception of purchasers far beyond that of the animal portion irrespective of the opposite size relationship of the two parts. The reason is that which controlled the decision of the Court above in Specialty Brands, supra, namely, that persons are more apt to associate a relatively unknown brand to one that is well known. In this regard, the evidence shows that Butler was aware of JOCKEY brand products, including JOCKEY brand sportswear. Thus, he was unquestionably bound by the duty imposed by our trademark law on all late-comers to select marks that are sufficiently distinguishable from marks in respect of which others have federally recorded superior rights to prevent confusion. Miles Laboratories, supra, 1 USPQ 2d at 1455. We conclude that Butler did not fulfill that responsibility when he selected a design which incorporated the design of a jockey which has become so closely and uniquely associated with the same and closely related wearing apparel of Jockey for many years. We also conclude that, conceding the designs are distinguishable on detailed analysis, they clearly evoke confusingly similar commercial impressions when used on applicant's and opposer's goods.
(vi) Absence of Evidence of Actual Confusion
 In view of the insignificant level of applicant's sales, the absence of actual confusion evidence is of no consequence. E.g. Jules Berman & Associates v. Consolidated Distilled Products, Inc., 202 USPQ 67, 71 (TTAB 1979). That Butler plans to expand his business significantly is demonstrated by a letter from his counsel to counsel for opposer requesting compensation in the amount of $100,000 for his having to relinquish his rights in the mark. [FN17] The letter placed considerable stress on Butler's intention to expand sales.
(viii) Conclusion
  *7 Considering all of the above factors, we conclude that source confusion is likely.
 Decision: The opposition is sustained and registration to applicant is refused. [FN18]
J. D. Sams
G. D. Krugman
Members, Trademark Trial and Appeal Board
FN1. Serial No. 461,975, filed January 23, 1984.
FN2. Reg. No. 391,692, issued Nov. 18, 1941 to Cooper's Incorporated Incorporated; republished under §12(c); affidavit §8 accepted, §15 received; twice renewed; record title in Jockey International, Inc.
FN3. Reg. No. 509,364, issued May 3, 1949 to Cooper's Incorporated; affidavit § 8 accepted, §15 received; renewed; amended to form shown above in 1982; record title in Jockey International, Inc.
FN4. Reg. No. 711,570, issued Feb. 21, 1961 to Cooper's Incorporated; affidavit §8 accepted, §15 received; renewed; record title in Jockey International, Inc.
FN5. Reg. No. 768,840, issued April 28, 1964 to Cooper's Incorporated; affidavit §8 accepted, §15 received; renewed; record title in Jockey International, Inc.
FN6. Reg. No. 816,662, issued Oct. 11, 1966 to Cooper's  Inc., affidavit §8 accepted, §15 received; record title in Jockey International, Inc.
FN7. Reg. No. 957,864, issued April 24, 1973 to Jockey International, Inc.; affidavit §8 accepted, §15 received.
FN8. Reg.  No. 1,145,086, issued Dec. 30, 1980 to Jockey International, Inc.
FN9. Reg. No. 1,177,403, issued Nov. 10, 1981 to Jockey International, Inc.
FN10. Not all of the additional portions were necessary for clarification; however, Jockey did not move to strike any of the added portions.
FN11. Butler does not maintain that the other designs have been abandoned and that they, therefore, are not relevant to the issue before us, however. He could not do so, not having counterclaimed or petitioned to cancel any of the registrations owned by opposer in which the designs other than the half-length stylized jockey design are depicted. E.g., Gillette Co. v. '42' Products Ltd., Inc., 396 F.2d 1001, 158 USPQ 101 (CCPA 1968).
FN12. While the statuette marks were not pleaded as a basis for Jockey's opposition, absent any objection by applicant to opposer's reliance on them, opposer's brief, 7, we deem the issue to have been tried by implied consent of the parties and the pleadings amended to conform thereto. E.g., Pneutek, Inc. v. Scherr, 211 USPQ 824 (TTAB 1981); FED. R. CIV. P. 15(b) (1985).
FN13. Butler estimated that he spent approximately five per cent of his time in his apparel business.
FN14. The label inside the cap bears the trademark SPORTCAP and the label in the neck of the sirt bears the trademark THOROUGHBRED. It is not known whether these are marks of Butler or of his suppliers.
FN15. In this regard, the record establishes that Jockey has not, to the knowledge of its witness Gill, used a design consisting of a jockey (or rider) on a horse.
FN16. In that opposer has established the ownership and validity of its registrations, no issue concerning priority of use exists as to the registered marks. King Candy Co. v. Eunice King's Kitchen, Inc., 496 F.2d 1400, 182 USPQ 108 (CCPA 1974). As to the JOCKEY boy statuettes, supra., at note 12, Jockey's priority of use of these marks has been established on the record before us.
FN17. The letter is in the record as exhibit 7 to Butler's discovery deposition, introduced with opposer's March 18, 1986 notice of reliance, without any objection by applicant apparent from the record before us.
FN18. The facts disclosed in this record appear to raise a question whether the matter subject of Butler's application functions as a mark or whether it constitutes mere ornamentation of his goods. Such issue appears not to have been raised in the application file and was not tried here. Accordingly, should applicant ultimately prevail in the case, we recommend, pursuant to Trademark Rule 37 CFR § 2:131 (1985) that registration be withheld pending reexamination in light of this reference.