Trademark Trial and Appeal Board
Patent and Trademark Office (P.T.O.)
*1 CPC INTERNATIONAL INC.
v.
SKIPPY, INC.
May 28, 1987
Hearing: December 9, 1986
 Opposition No. 65,712 to application Serial No. 206,445 filed March 7, 1979.
 Opposition No. 65,713 to application Serial No. 207,476 filed March 15, 1979.
W. Mack Webner, and Nies, Webner, Kurz and Bergert, and Phillips M. Regnault for CPC International Inc.
Skippy Inc., pro se.
Before Allen, Rooney and Cissel
Members
Opinion by Allen
Member
 Applications have been filed by Skippy, Inc. to register the marks SKIPPY  [FN1] and SKIPPY and design, [FN2] both for promoting the sale of goods and/or services of others by rendering assistance in devising advertising and merchandising programs. Applicant recites a date of first use and first use in commerce of December 9, 1925, in both applications.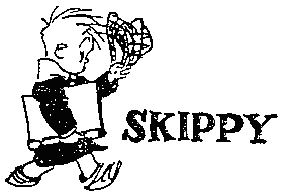 Registration of both applications has been opposed [FN3] by CPC International, Inc. on the grounds that opposer and its predecessors have used the mark SKIPPY in connection with food products since on or before February 1, 1933; that opposer is the owner of Registration No. 504,940 for SKIPPY for peanut butter; [FN4] that opposer's use and that of its licensees and the promotion of the mark has been so extensive that its mark has come to be associated with opposer for a wide variety of goods and services; that the services listed in applicant's applications are so broad as to encompass the sale of peanut butter or other food products and/or the advertising and merchandising of peanut butter and other food products or merchandise used in the promotion of peanut butter and other food products; that applicant's marks SKIPPY and SKIPPY and design when applied to or used for applicant's services so resembles the mark SKIPPY previously registered by opposer for peanut butter as to be likely to cause confusion, mistake or to deceive; that applicant's applications are fraudulent because the specimens submitted do not describe the services claimed in the application and because applicant does not offer the services set forth in the applications and did not offer such services at the time of filing of its applications; that the applications are fraudulent because the alleged date of first use in 1925 was not for the services described in the applications; that applicant's use of the mark SKIPPY for any purpose ceased in 1945 and any use thereafter has been so sporadic and nominal as not to constitute trademark or service mark use and all rights applicant or its predecessors had in the marks have been abandoned; that applicant's use of its mark SKIPPY falsely suggests a connection with opposer and its mark SKIPPY; that applicant is not now the owner of the mark sought to be registered and has not now, and never has had extensive use thereof in respect of the services claimed. In its answers, applicant denied the salient allegations of the oppositions.
 The record consists of the files of the opposed applications; opposer's registration of SKIPPY for peanut butter; [FN5] trial testimony on behalf of opposer, including exhibits; portions of discovery depositions of Joan Tibbetts, president of applicant [FN6] and various documents relevant thereto, introduced by opposer with its notice of reliance filed November 29, 1985. Applicant took no testimony and introduced no evidence. Only opposer filed a brief. [FN7] Both parties participated in an oral argument of the issues at a hearing held for this purpose. [FN8]
  *2 Opposer is an international corporation which manufactures, distributes and sells, inter alia, branded consumer grocery products. Among its brands are HELLMANN'S for mayonnaise, MAZOLA for corn oil, KNORR for soups and sauces, KARO for syrup, THOMAS' for breads and muffins, MUELLER'S for pasta products and the mark here relied on, SKIPPY for peanut butter.
 CPC and its predecessors in interest have sold SKIPPY brand peanut butter since at least as early as February 1, 1933 and the mark has been used continuously for that product since that date. Annual sales of SKIPPY peanut butter over the last 28 years have increased from approximately 28 million dollars to approximately 150 million dollars. The brand is advertised in magazines, on television and at the points of its sale. The SKIPPY mark is also promoted by price-off offers to consumers and to the trade; offers of collateral 'premium' products such as athletic equipment, picnic coolers and telescopes; 'tie-ins' with good deeds programs, by sending recipes for peanut butter products to food editors of newspapers and magazines; and tie-in promotions with other corporations and their product or service. Opposer has spent, annually, from over two million dollars in 1958, increasingly, to approximately seventeen million dollars in 1985 for advertising and promoting its SKIPPY brand products.
 From time to time, opposer has licensed the use of its SKIPPY mark for use on various products, e.g. clothing, plastic drinking cups, and greeting cards. Additionally, opposer has distributed promotional items bearing the SKIPPY mark as premiums. These items include book bags, banks and Rockwell prints.
 Absent any evidentiary showing by applicant, the only factual information about Skippy, Inc. comes from the discovery deposition testimony put in by opposer and that derived from the findings of the court in the civil litigation in 1980 between the parties reported as Skippy, Inc. v. CPC International Inc., 210 USPQ 589 (E.D.Va. 1980), aff'd in part, vacated in part, 216 USPQ 1061 (4th Cir. 1982), cert. denied (1982).
 Skippy, Inc. was founded by Percy Crosby, a cartoonist who had a popular cartoon strip in the 1930's. The cartoon ceased syndication in 1945 and in the same year, Crosby's registration of SKIPPY for 'cartoons depicting a humorous juvenile character' expired for failure of its renewal. Crosby was committed as an incompetent in 1949 and died in 1964. Except for a license to a doll company for a limited edition doll, and some pencils distributed as promotional items, little was done by Skippy, Inc. to exploit the cartoon character or name from 1945 to 1980 when the mark SKIPPY was reregistered for the cartoon title. In fact, the record here makes clear that applicant has been inactive from 1947 through 1969 with the exception that it obtained revenue in 1965 from the proceeds of a life insurance policy on Percy Crosby's life, and in 1978 when opposer paid Skippy, Inc. for an agreement which included an option to use the cartoon artwork of Mr. Crosby. Thus, Skippy, Inc. has no employees, has never advertised and has never even had a telephone listing under its corporate name.
  *3 The two opposed applications were filed based on the alleged use by Skippy, Inc. of the marks SKIPPY and SKIPPY and Design on blank stationary showing the letterhead depicted (in reduced size) below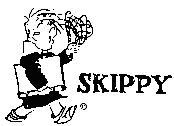 and a news release of World Wide Licensing and Merchandising Corporation, 29 East 21st Street, New York, N.Y., 10010, depicting the same mark and the following copy:
   SKIPPY is alive and well; and World Wide Licensing has the exclusive merchandising rights.' It's official.' World Wide Licensing and Merchandising Corporation has been appointed exclusive licensing agent for the 'SKIPPY' property. The agreement was concluded between Bob Rosen, President of World Wide and Mrs. Joan Crosby Tibbetts, President of Skippy, Inc. and daughter of the late famous cartoonist and fine artist, Percy Crosby who creatd the 'SKIPPY' character and friends.
   In 1923, Percy Crosby presented 'SKIPPY' in LIFE for the first time. The wistful little towheaded philosopher was an immediate sensation. The comic strip of his adventures was read by millions throughout the world and is being reprinted still. In addition to being known as 'The Cartoonist's Cartoonist', he had acquired fame for his fine art and sports drawings; which were exhibited in the United States and Europe's major museums and art galleries.
   World Wide and Skippy, Inc. will join efforts in public relations, and the licensing of diversified products. Two of the largest users of 'SKIPPY', are CPC/BEST FOODS Peanut Butter and Peanuts and NATIONAL PET FOODS, dog and cat food products.
 The application was refused registration in part because the specimens did not evidence service mark use and this refusal was overcome based in part on applicant's representation that '[in] addition to use in connection with the comic strip, the mark and character are used in connection with the licensing of a wide variety of other goods including such items as pens and pencils, dolls, motion pictures and the like.' (Response dated September 17, 1980.) The response was accompanied by substitute specimen letters on applicant's letterhead stationery and a declaration stating that they were 'of a type which were in use prior to the filing date of the application.' Only one of the additional specimens bears a date prior to the filing date of the application. This one is a page of a letter to 'Mr. Pete Martin' noting that Martin Beverage Company no longer uses SKIPPY as a name for its soft drink and suggesting that it take a license from Skippy, Inc.
 As the evidence clearly shows, applicant had not as of either filing date  (March 9 and March 15, 1979) offered any services of advertising, promoting or merchandising the goods or services of others. All it had done as of that date was to try to license its cartoon portfolio but it had not been successful at such licensing attempts. The use of a mark in connection with advertising, promotion and preparatory services to be available in the future but not yet available cannot support registration. In re Port Authority of New York and New Jersey, ---- USPQ 2d ----, Serial No. 406,220, slip op., 8 (TTAB, April 9, 1987); In re Sanger Telecasters, Inc., 1 USPQ 2d 1589, 1590 (TTAB 1986). Moreover, there are disturbing indications in this file which cast serious doubt about whether the only document in the file purporting to demonstrate use of the mark prior to the filing date was even in existence prior to either filing date.
  *4 The only issues which we have to decide are (i) whether the registration of SKIPPY and SKIPPY and Design for the service of 'promoting the sale of goods and/or services of others by rendering assistance in devising advertising and merchandising programs' is likely to cause confusion, mistake or deception, as to the association, sponsorship or origin of such service with the owner or origin of the trademark SKIPPY for peanut butter; [FN9] and (ii) whether the applications to register SKIPPY and SKIPPY and Design for services which have never been offered or rendered and which are unsupported by the specimens were fraudulently filed and maintained.
 Concerning the first issue, confusion is not only likely; it is inevitable. In the first place, the identification of services in respect of which registration is sought is broad enough to encompass rendering the services in connection with the merchandising of peanut butter. Potential clients of applicant's services in connection with peanut butter are bound to think the services have some connection with opposer's famous SKIPPY peanut butter brand. Indeed, if circulated, the promotional brochure of World Wide Licensing and Merchandising Corporation, set forth, supra, strongly implying (last two sentences) that Skippy, Inc. and CPC Interntional , Inc. were associated in Skippy, Inc.'s venture is bound to encourage this genre of confusion among prospective clients. Moreover, applicant's president frankly stated in her 1985 deposition that food companies, including peanut butter manufacturers, were among the potential clients for the services of Skippy, Inc. and that use of the mark SKIPPY on such products would be part of the licensing package it would offer them. [FN10] All of these prospective activities greatly enhance the likelihood that source confusion and deception will occur. The likelihood of confusion is further enhanced by the fact that opposer has licensed its peanut butter trademark for collateral products. Finally, Mrs. Tibbetts virtually conceded this issue to opposer by giving deposition testimony concerning an instance of actual confusion which occurred during her discussions with the Martin Beverage Company. The testimony follows:
   BY MR. WEBNER
   Q364 [On] January 16, 1979, it appears as though you wrote a letter to a Mr. Pete Martin of Martin Beverage Company. Are you familiar with that document? It appears as though there is only one page of that document here.
   A So? Where is the remaining page?
   Q365 That is all that appears to be in the [application] file. Are you familar with this letter?
   A Yes.
   Q366 And you advised Mr. Martin that you are apparently engaged in licensing the Skippy character.
   A Uh-huh.
   Q367 It says here that Mr. Martin had dropped the Skippy name, so I gather that they had once made the Skippy beverage that you are talking about?
   A Yes. That's an example of--I believe one of the reasons this was submitted as an exhibit is that our counsel, Mr. Cleary, was aware at the time and as amused as I was that Pete Martin of Martin Beverage admitted to me they took the name Skippy in 1939 to compete with Mission Orange. They discontinued the name in approximately 1973 or '74 because they were afraid that Percy Crosby's company was going to come and stop them, and I said, 'What was the name of Percy Crosby's company?'
    *5 He said, 'You know, the peanut butter people, Skippy.'
   What else could be a better example of actual confusion?
(Tibbetts 1983 deposition, 111-12.)
 Although what Mr. Martin told Mrs. Tibbetts is obviously hearsay, any objection to its admissibility was obviously waived by Mrs. Tibbetts who both gave the testimony and, representing herself pro se at the deposition, did not object.
 Concerning issue (ii), we do not believe the evidence before us provides a sufficient basis for determining that applicant's actions in connection with the filing of the applications were with fraudulant intent. On the other hand, there is no doubt whatsoever that the marks were not in use on the indicated services as of the filing dates of the applications and, in view of what we have said above, we also conclude that the specimens of record do not demonstrate any such use on or prior to the filing dates. Accordingly, both applications are void ab initio. Community of Roquefort v. Santo, 443 F.2d 1196, 170 USPQ 205 (CCPA 1981); Pan American Life Insurance Co. v. Federated Mutual Insurance Co., 226 USPQ 914 (TTAB 1985).
 Decision: Both oppositions are sustained and both marks are refused registration.
L. E. Rooney
R. F. Cissel
Members, Trademark Trial and Appeal Board
FN1. Application Serial No. 206,445 filed March 7, 1979.
FN2. Application Serial No. 207,476 filed March 15, 1979.
FN3. The oppositions were consolidated by the Board on August 2, 1982, upon applicant's motion, with opposer's consent.
FN4. Registration No. 504,940, issued Dec. 21, 1948, to Rosefield Packing Co., Ltd.; affidavit § 8 accepted, § 15 received; renewed; record title in CPC International Inc. A status and title copy of the pleaded registration was made of record in this case by means of an order therefor accompanying the opposition pursuant to the rule then in effect. Trademark Rule 37 CFR § 2.122(b) (1981). The rule has since been changed.
FN5. Supra, note 4.
FN6. The depositions were taken after the close of the period for discovery as counsel for opposer and (then) counsel for applicant had agreed on September 13, 1985.
FN7. Mrs. Tibbetts read a prepared statement during the time allotted for applicant's argument at the oral hearing and left copies of the statement with the Board. However, the written statement cannot, obviously, serve as applicant's brief since to accept it as such would foreclose opposer's right to file a reply brief. See, Trademark Rule 37 CFR § 2.128(a)(1) (1986).
FN8. Mrs. Tibbetts appeared pro se for applicant. Although not represented by counsel at the oral argument, applicant had previously been represented by no less than five experienced trademark attorneys, all of whom withdrew from the case.
FN9. In that opposer owns a registration of SKIPPY for peanut butter and the validity of that registration has not been challenged by applicant in a counterclaim or petition for cancellation, priority is not an issue. King Candy Co. v. Eunice King's Kitchen, Inc. 496 F. 2d 1400, 182 USPQ 108 (CCPA 1975). On the last day of the rebuttal testimony period, applicant had moved to amend its answer to incorporate a counterclaim for cancellation. However the motion was denied as untimely. Although the petition was ordered to be processed separately from the opposition, applicant subsequently withdrew the petition.
FN10. BY MR. WEBNER
   Q739 Have you sought out any food product companies to undertake your services . . . in your applications?
   A Yes.
   Q740 Can you say whom you have contacted?
   A Absolutely not.
   Q741 But you have contacted some.
   A The food industry is--I've done enough inquiry about who CPC supplies and stuff like that. This is very privileged.
   Q742 Have you contacted any peanut butter manufacturers other than CPC to see if they want to use Skippy?
   A We are in the process of looking into that . . ..
   (Tibbetts, 1985 deposition, 190-1.)