Trademark Trial and Appeal Board
Patent and Trademark Office (P.T.O.)
*1 BISON CORPORATION
v.
PERFECTA CHEMIE B.V.
June 9, 1987
Hearing: October 15, 1986
 Opposition No. 70,536 to application Serial No. 450,757 filed November 1, 1983.
Thomas G. Miller for Bison Corporation
Donald L. Dennison, William H. Meserole, David Pollack and Burton Scheiner for Perfecta Chemie B.V.
Before Allen, Rooney and Cissel
Opinion by Rooney
Member
 Perfecta Chemie B.V. filed an application to register the mark BISON and design (shown below) for a full line of adhesives for general and industrial use and adhesives for stationery and household purposes based on Benelux Registration No. 320,271. [FN1]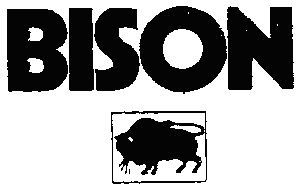 Registration has been opposed by Bison Corporation on the grounds that applicant's mark, as applied to its goods so resembles opposer's marks shown below, previously used by opposer
on products which include industrial chemicals, metal treatment and finishing chemicals and equipment, solvents, accessories and supplies and allied products, such as adhesives and glues in the nature of pressure-sensitive and masking tapes and cold and animal glues and registered for solvents used in the metal finishing and metal plating industry, [FN2] buffing compounds, buffing wheels and cob meal used for cleaning and burnishing and de-burring the surface of metals, [FN3] as to be likely to cause confusion, mistake or deception.
 Applicant admitted that the pleaded registrations were issued to opposer but denies the remaining essential allegations.
 The record consists of copies of opposer's registrations introduced through the testimony of opposer's witness, certain of opposer's responses to applicant's interrogatories introduced by applicant's notice of reliance, [FN4] and testimony on behalf of both parties. An oral hearing was held at which both parties were represented.
 Before considering the merits of the case, there is a preliminary determination to be made with regard to certain exhibits sought to be introduced by opposer at the testimony deposition of its witness, Mr. Morelli and to which applicant has objected. Specifically, applicant objected to the introduction of opposer's exhibits 1, 2, 7, 8, 9 and 11 on the ground that they were not produced in response to applicant's discovery requests and had not been seen by applicant prior to the deposition. The exhibits in question are a pamphlet printed in the early 1950's (Exhibit 1), a new product list (Exhibit 2), a 'throwaway' sheet for Bison Biospray Liquid Buffing Compound (Exhibit 7), a sheet listing opposer's divisions (Exhibit 8), an ad sheet (Exhibit 9) and a price list for emery glue (Exhibit 11). Applicant had requested of opposer '(A)ll general catalogs and price lists showing Opposer's BISON branded goods' and '(C)opies of all labels, name tags, advertising and promotional documentation utilized by opposer to promote its BISON mark on glues, adhesives or pressure sensitive tapes.'
  *2 Opposer argued that it 'provided what we found available at the time of the questions and later investigation found additional items of interest to the proceeding'; that the exhibits in question were not found until some time after the response was sent to applicant; that the documents in question were produced 'prior to trial' interpreted by applicant to be 'effected by the filing and consideration of the parties' briefs'; that opposer stated in its response to applicant's requests that '(T)he present responses reflect only Opposer's present knowledge, information and belief and certain responses may be subject to change or amplification on the basis of further facts and circumstances which may come to opposer's knowledge through discovery or otherwise'; that the objected to exhibits are cumulative; that representative samples were provided; and that, in any event, applicant had an opportunity to inspect the documents at the deposition.
 To begin with, for purposes of proceedings before the Trademark Trial and Appeal Board, trial begins with the opening of the opposer/petitioner's testimony period. Discovery opens when the proceeding commences and closes on a date set by the Board. Discovery responses are to be served on the appropriate dates, i.e., thirty days after service thereof unless extensions have been approved but since discovery requests must be served no later than the closing date for discovery, responses should be received, in the normal course of events, no later than five days after the plaintiff's testimony period opens. [FN5] Thus, opposer's contention that applicant really can't object so long as the documents were produced prior to final hearing is manifestly incorrect.
 The purpose of discovery is to provide information which may aid a party in the preparation of its own case or in the cross-examination of its adversary's witnesses. It is unfair for a party to withhold documents requested or refuse to answer interrogatories posed by its adversary or, as appears to be the case here, fail to make a complete investigation to locate the information. Each party has an obligation to thoroughly check its records in order to provide the requested discovery, assuming of course, that the requests were within the scope of the discovery rules. In this case, opposer is not justified in having failed to submit the questioned documents to applicant simply because no thorough investigation was made initially. Mr. Morelli indicated, with reference to Exhibit 1. '(W)hen you kept on asking me for some more information, I went in the old file and we brought this out.' It does not appear that there was any great effort involved that would have precluded its being found in the first instance. Nor is it clear exactly when Exhibits 1, 2, 7, 8, 9 and 11 were unearthed and it appears entirely likely that opposer had discovered these documents in sufficient time to provide them to applicant prior to Mr. Morelli's deposition.
 Opposer's arguments that the documents in question are cumulative and that those provided applicant are a representative sample of the type requested are not persuasive. The marks in this case are for all practical purposes identical and there is no dispute as to opposer's prior use of its mark. The only real issue before us is the similarity or nonsimilarity between the goods and the trade channels therefor. The documents which appeared for the first time at the deposition are all significant with regard to these issues and since the total number of exhibits is only eleven, the extent to which they may be cumulative is slight. As to opposer's having provided a representative sample, in the cases allowing a party to provide representative samples of requested documents there is a common denominator. In every such case, samples have been permitted where the number of documents involved was such that it would have placed an undue burden on the answering party, to provide every document requested. See Mack Trucks, Inc. v. Monroe Auto Equipment Co., 181 USPQ 286 (TTAB 1974); Van Dyke Research Corp. v. Xerox Corp., 181 USPQ 346 (TTAB 1974); Van Dyke Research Corp. v. Xerox Corp., 181 USPQ 346 (TTAB 1974) and J.B. Williams Co., Inc. v. Pepsodent G.m.b.H., 188 USPQ 579 (TTAB 1975). Locating and submitting eleven documents can hardly be considered oppressive or burdensome.
  *3 Finally, opposer has referred to Rule 26(e) FRCP asserting that the present circumstances do not fall within the rule regarding supplementation of responses. Opposer specifically referred to the following:
   A party who has responded to a request for discovery with a response that was complete when made is under no duty to supplement his response to include information thereafter acquired, except as follows:
 (1) . . .
 (2) A party is under a duty seasonably to amend a prior response if he obtains information upon the basis of which (A) he knows that the response though correct when made is no longer true and the circumstances are such that a failure to amend the response is in substance a knowing concealment.
 (3) . . .
 Apart from the fact that opposer's preamble to its responses indicated that certain of its responses 'may be subject to change or amplification' from which statement applicant would have been justified to expect opposer to send any further documents which might come to light subsequent to receipt of the responses, it seems obvious that opposer's response was not 'complete when made' since it appears that only a cursory investigation of its files had been made at that time.
 For all of the foregoing reasons, applicant's objections are sustained and Exhibits 1, 2, 7, 8, 9 and 11 have not been considered.
 Turning to the merits, opposer was founded in 1949 as Canton Plater Supply Co. and, in the 1950's, it adopted the name Bison Corporation for a division thereof. That name later became the name of the corporation. The company started out in the manufacture and sale of chemicals with emphasis on products used in the metal finishing industry. As listed in opposer's Exhibit 3, a current catalog, the business encompasses processes, equipment, chemicals and supplies for metal finishing as well as related services. In the same catalog, under the category 'Other--Metal Finishing Products' there is a listing for 'glue' with sublistings of 'Bisoglu' and 'Animal Hide'. The words BISON and BISON CORPORATION, alone and with design, appear throughout the catalog. Exhibit 4 is a directory, stated by Mr. Morelli to have been printed at least 20 years ago and to be still in use. In it there is a chart illustrating the scope of opposer's products, among them are 'cold glue', 'animal glue' and 'pressure sensitive tapes'. As in the first catalog, the BISON marks are dispersed throughout the chart. Exhibit 5 is a label for sodium silicate also showing the BISON name and mark. Sodium silicate, according to the witness is a chemical used as an adhesive [FN6] by label makers and repackagers that repackage it in small tubes. On cross-examination, the witness testified that the company has always sold adhesive tapes and have made sales of 2 to 3 thousand rolls of adhesive tapes at a time, all with the BISON name on them.
 Opposer advertises in trade magazines at a cost of 15 to 25 thousand dollars a year and has had sales of 8 to 12 million dollars a year. Opposer's glue products are not advertised separately and account for less than 10% of opposer's total sales. Most sales are direct but some are made through manufacturers' representatives.
  *4 Applicant is a Netherlands company. In early 1983, Key Products, Inc., became applicant's U.S. distributor. Applicant's first shipment to its distributor occurred on October 17, 1983. (Applicant's Exhibit 1) On November 17, 1983 some of these goods (BISON Quick-Mix wall covering paste) were shipped to a customer in New York. Applicant's witness testified that applicant sells a wide variety of adhesives for use by consumers, such as craftsmen and contractors and to wallpaper stores in containers up to 12 ounces. Applicant advertises in trade and public distribution magazines. Expenses through September 1984 for advertisements placed in such magazines amounted to $4,624.62 which was shared equally by applicant and its distributor.
 Priority is not in issue by virtue of opposer's ownership of valid and subsisting registrations of its mark. Apart therefrom opposer has proved prior use of its mark and applicant does not dispute it.
 Since the marks are essentially identical, there is a single issue before us and that is whether the goods of these parties are sufficiently similar or related that their sale under the parties' marks would be likely to cause confusion, mistake or deception.
 Applicant's position is that opposer isn't actually in the glue business, but that even if it is, the channels of trade that opposer's products move in differ from its own. Applicant argues first that opposer is in the business of manufacturing products for the metal finishing industry and that to the extent that 'glues' are sold at all, they are classified as 'other metal finishing products'. It is clear, asserts applicant, that any glues manufactured or sold by opposer are sold to and used by the metal finishing departments of industrial companies including those in the plating trades which use these materials for adhering abrasives and abrasive materials on polishing wheels, etc. Further, it is argued that there is nothing in the record to show the extent of sales of adhesives or glues or of any actual shipment thereof.
 With regard to that argument, there is sufficient evidence of record to support opposer's claim that 'glues' are included as one of its products and have been for at least 20 years. While there are no documents showing actual sales of glues, there is credible testimony that glues and adhesive tapes are and have been sold continuously for many years. Mr. Morelli testified with respect to adhesive tapes:
   A. . . . We sell two, 3,000 rolls at a time. I am just thinking of one company, which is Timken Roller Bearing, and we have been selling them tapes for at least, I guess, 15 years.
   Q. Do you put the Bison name on these tapes when you sell them?
   A. Yes, on the package.
 On the subject of glue, there was an exchange on cross-examination relative to products which are part glue but which are not called glue by opposer, i.e., greaseless compounds and other products which are sold as glue, per se.
   Q. You do call it glue, do you not, in Exhibit No. 4?
    *5 A. Yes, but when you sell it as glue for the user to take a brush, heat it, mix it and use it himself--in other words, the old way, not the new way.
 In a discussion of Sodium Silicate there was the following exchange.
   Q. What uses does pure Sodium Silicate have?
   A. One of the biggest uses of Sodium Silicate is glue for labels, but it is not called glue, it is Sodium Silicate. You dilute it with a certain amount of water, take a brush, make sure it is covered so it does not evaporate and that is glue.
   Q. Does it have any industrial use?
   A. Yes.
   Q. What would that be?
   A. Ceramic.
   Q. What is it used for in ceramics?
   A. Binder, (7) and also I think to give it a certain shine or something. I don't know. I am not too familiar with that, but we do sell it to the ceramic industry. We sell to Whitaker, Belden.
 Opposer admitted that glues and adhesive tapes comprise less than 10% of its business and that it does not advertise glues, per se. However, it is not necessary, in order to find likelihood of confusion, that the goods in question be a major product of the opposer but only that opposer have prior use of a similar mark (in this case identical) on a similar or related product. We are satisfied that opposer has shown prior use of the mark on glues and other adhesives.
 As to the second part of applicant's argument, it has long been settled that the question of likelihood of confusion must be determined in accordance with the identification of goods or services in applicant's application. Where there are no restrictions therein, it may be presumed for our purposes that applicant sells all types of the particular goods through all of the normal channels of trade therefor. See Knorr-Nahrmittel Akg. v. Havland International, Inc., 206 USPQ 827 (TTAB 1980). In this case, we need make no such presumptions since applicant's identification specifically naming 'adhesives for general and industrial use' and 'for stationery and household purposes' is very broad indeed and certainly includes the uses and channels of trade for opposer's glue products. Applicant's arguments as to differing customers and trade channels are therefore unpersuasive.
 Accordingly, we believe that persons who are familiar with or have reason to encounter opposer's adhesive products under the BISON name and marks may well believe, if they should see applicant's products on the marketplace under an essentially identical mark, that opposer has expanded into a more extensive line of adhesives.
 In view thereof, the opposition is sustained.
D. B. Allen
L. E. Rooney
Members, Trademark Trial and Appeal Board
FN1. Registration dated July 27, 1973, renewed January 28, 1983.
FN2. Reg. No. 853,934 issued August 6, 1968. Section 8 affidavit accepted, Section 15 affidavit filed.
FN3. Reg. No. 854,423 issued August 13, 1968. Section 8 affidavit accepted, Section 15 affidavit filed.
FN4. In granting applicant's request for reconsideration and finding applicant's notice of reliance to be timely, the Board reopened opposer's rebuttal testimony period (which had expired during the pendency of applicant's request for reconsideration) for the 'limited' purpose of allowing opposer to introduce evidence in rebuttal of the evidence submitted under applicant's notice of reliance. Applicant noticed reliance on certain of opposer's answers to applicant's interrogatories. Opposer, during the reopened period, submitted a notice of reliance on the first page of opposer's responses to applicant's interrogatories and request for production of documents as well as certain material said to rebut the 'general trend of the testimony of Peter H. Boehme', applicant's sole witness, specifically, 'a photocopy of an advertising pamphlet associated with Applicant's Response to Opposer's Interrogatories and Request For Production of Documents'. Applicant has objected to said material on the ground that it is beyond the limited purpose for which the rebuttal period was reopened. With regard thereto, and contrary to opposer's argument, applicant did not and, in fact, could not, under normal circumstances, rely on its own answers to opposer's interrogatories. Thus, material received by opposer in response to its interrogatories does not rebut anything submitted under applicant's notice of reliance. To the extent that is was intended to rebut the testimony of Peter H. Boehme, the advertising pamphlet was beyond the scope of the limited rebuttal permitted by the Board's order. Finally, the first page of opposer's responses to applicant's interrogatories and request for production of documents (which consists of introductory matter) would be admissible, in view of applicant's reliance on certain of opposer's responses thereto, provided that it had been introduced to clarify, rebut or explain the responses relied on by applicant. However, opposer did not indicate the relevance thereof and applicant objected generally to the material listed in opposer's notice of reliance on the ground that 'there is nothing therein rebutting what applicant put into the file in its notice of reliance'. In view of the foregoing, applicant's motion to strike is granted and said material has not been considered.
FN5. When service is made by mail, five additional days are added. See Rule 2.119.
FN6. Definitions and uses for sodium silicate are available in several chemical dictionaries. The Condensed Chemical Dictionary, 10th edition, 1981, Van Nostrand Reinhold Company defines it as '46th highest volume chemical produced in U.S.' 'The simplest form of glass'. Under 'uses', the following are listed: catalysts and silica gels; soaps and detergents; adhesives, especially sealing and laminating paper board containers; . . . . 'In Hackh's Chemical Dictionary, 4th edition, 1969, McGraw-Hill Book Company, we find '. . . an amorphous powder or heavy liquid aqueous solution, soluble in water . . . Used as an adhesive (paper industry), binder (acid-proof cements) . . .'. Finally, The Condensed Chemical Dictionary, 5th edition, 1958, Reinhold Publishing Corp., '(. . . soluble glass; silicate of soda; liquid glass; water glass). . . . Uses: . . . adhesive preparations'.
FN7. Glue is defined as '1. An adhesive substance or solution; a viscous substance used to join or bond.' Thus, applicant's inference that if sodium silicate is used as a binder it can't be considered a glue is not understood. In applicant's own glue box there are expressions such as:
   Bison-Tex provides a strong bond to formica, door lining . . . .
   And with Bison Rigid-PVC-Adhesive you will get a rock hard bond.