Trademark Trial and Appeal Board
Patent and Trademark Office (P.T.O.)
*1 ANHEUSER-BUSCH, INCORPORATED
v.
THE FLORISTS ASSOCIATION OF GREATER CLEVELAND, INC.
October 13, 1993
Issued: September 29, 1993
Hearing: July 20, 1993
 Opposition No. 73,259 to application Serial No. 73/511,412, filed November 30, 1984.
James B. Muskal of Leydig, Voit & Mayer, Ltd. for Anheuser-Busch, Incorporated.
Christopher B. Fagan of Fay, Sharpe, Beall, Fagan, Minnich & McKee for The Florists Association of Greater Cleveland, Inc.
Before Simms, Cissel and Seeherman
Members
Opinion by Simms
Member
 Anheuser-Busch, Incorporated (opposer) has challenged the right of The Florists Association of Greater Cleveland, Inc. (applicant) to register the mark THIS BUD'S FOR YOU for fresh-cut flowers, blooming and non-blooming live plants. [FN1] In the notice of opposition, opposer asserted that for many years and long prior to applicant's date of first use, opposer used the marks BUDWEISER, BUD and THIS BUD'S FOR YOU for beer and malt liquor; that opposer has licensed use of these marks for a variety of goods including giftware, paper goods, clothing, housewares, sporting goods, toys, games, jewelry and luggage; that opposer owns various registrations of these marks, including Registration No. 1,332,479, issued April 23, 1985, covering the mark THIS BUD'S FOR YOU for beer; and that applicant's mark used in connection with its goods so resembles opposer's previously used and registered marks as to be likely to cause confusion, to cause mistake or to deceive. Opposer further alleges that purchasers of applicant's goods are likely to believe that those goods originate with or are licensed or sponsored by opposer. As additional grounds for opposition, opposer asserts that, at the time of the filing of the application, applicant did not use the mark in commerce, that applicant is not the owner of the mark and that the asserted mark is not distinctive in commerce of applicant's goods. In its answer, applicant has denied the pertinent allegations of the opposition but has admitted that opposer used the pleaded marks prior to applicant's use and that opposer owns the pleaded registrations.
 The record of this case consists of testimony (and exhibits) submitted by both parties; testimony (and exhibits) from a civil action involving these parties, introduced pursuant to Trademark Rule 2.122(f); opposer's pleaded registrations, certain of applicant's responses to opposer's discovery requests and a number of excerpts from the Nexis computer database, all relied upon pursuant to opposer's notice of reliance; and the application file. The parties have filed briefs and an oral hearing of argument was held.
 After the pleadings were filed in this case, the Board suspended proceedings pending the outcome of a civil action which opposer brought in federal court in the Northern District of Ohio. There, opposer had brought suit for trademark infringement, unfair competition, invasion of commercial rights and deceptive advertising. On October 12, 1984, the court, in a published opinion, denied opposer's motion for preliminary injunction. Anheuser-Busch, Inc. v. Florists Association of Cleveland, 603 F.Supp. 35, 224 USPQ 493 (N.D.Ohio 1984). Among other things, the court observed, at 495, that it was:
    *2 absurd to believe that any consumer could confuse beer with flowers, even of the underdeveloped variety ...
   No consumer called any florist asking to be delivered a six-pack; nor did any consumer call A-B [opposer] seeking to purchase two dozen roses.
While the court stated that applicant did intend to capitalize on the familiarity of the slogan, applicant did not intend to deceive consumers into believing that opposer was marketing flowers. 224 USPQ at 495, 496. [FN2] The decision of the court was appealed but the action was eventually dismissed with prejudice by stipulation. Proceedings in this opposition were then resumed.
 Opposer is a well known manufacturer of beer. In addition to that primary business, opposer is also involved in a substantial licensing program involving many of its trademarks, including those involved in this proceeding.
 According to the testimony, opposer first used the slogan THIS BUD'S FOR YOU in 1979. That slogan was extensively promoted on television, radio, in print media, on billboards and stadium signs. Over the years, opposer has spent many millions of dollars promoting its products under this slogan. This slogan (and trademark) appeared in virtually all of opposer's advertising for BUDWEISER beer. It was also used in connection with opposer's sponsorship of various sporting events.
 Opposer has used this slogan on bumper stickers and in 1983 a poster and greeting card bearing this slogan were produced and sold by Hallmark Cards stores and other merchants. The greeting card depicted a BUDWEISER bottle with a single rose. According to the testimony, this mark was also used on planters sold in gift shops and through opposer's catalogs.
 With regard to these licensed products, Carol Ebling, a former licensing manager of Hallmark Cards, testified that the concept displayed in those posters and greeting cards was developed in 1982. The posters were sold in 1983 and the cards, estimated in the 50,000 range, were sold in 1983 and '84. When asked about the popularity of the posters, Ms. Ebling testified, at 21:
   A. It was a lot. It was a really popular selling item, and I know that Hallmark sold it from 1983 through 1987, the first quarter of 1987. And if it stays in the Hallmark line that long, it's a really popular item. I remember seeing the numbers, but I don't have a total to give you off the top of my head.
   Q. Would it have been maybe over fifty thousand?
   A. Yes. Units sold?
   Q. Units sold.
   A. It would have been in excess of probably I would say close to two hundred thousand units sold during the life of the product. And in those two years, gosh, in excess of a hundred thousand.
A copy of the front of the greeting card, which is similar to the image on the poster, is reproduced below. The slogan was also authorized for use on clothing and beach towels, among other items.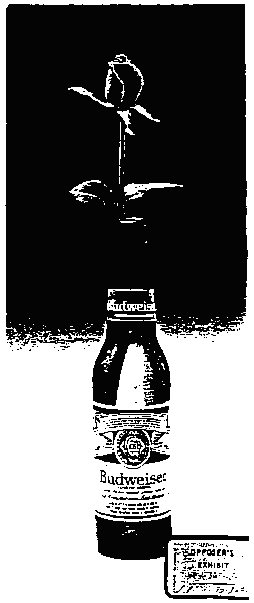 According to the testimony of Thomas Sharbaugh, the vice president of Budweiser Brands, the slogan and mark THIS BUD'S FOR YOU is one of the most successful in advertising history.
    *3 Q. Okay. Thank you.  In your experience as being the marketing manager--or not marketing--group manager of Budweiser and involved with This Bud's For You, what kind of recognition does This Bud's For You have in the general public?
   A. I would say it has enormous recognizability with the public, probably as great as any consumer product slogan there has ever been. My estimate is that a very high percentage of consumers would be able to play it back, you know, probably in excess of 90 percent.
   Q. Was this a successful slogan as far as the company or you were concerned?
   A. Oh, absolutely. I would say that--stronger than that, it's one of the most successful slogans of all times in the beer business or any other business.
   Q. And what do you base your information on? What do you base that opinion on?
   A. Just as an observer of the marketing discipline throughout the industry in this country. It is very rare that a brand employs a slogan that endures for as long as This Bud's for You has endured for Budweiser or is as known as This Bud's for You or has achieved as much positive sales results. So it's a combination of all of that. It certainly is one of the most successful and one of the most enduring.
Sharbaugh dep., 40-41. Opposer's slogan has admittedly become well known. The court in the civil action found this slogan and mark to be famous.
 Applicant is a not-for-profit Ohio association organized for the purpose of promoting and advertising the use and sale of fresh-cut flowers and other floral items. Members of the association include retail florists, growers and wholesale distributors or florists. Applicant has around 250 members in Cuyahoga County and surrounding counties in Northern Ohio. According to the record, members of the association contribute a certain percentage of their sales to support advertising of the association. In 1982, Harry Shaffer, Jr., the current executive secretary of applicant, developed the concept which led to use of the mark now sought to be registered. Shaffer dep., 10. Applicant eventually ran a promotional campaign for one week in October 1982 using the slogan " 'THIS BUD'S FOR YOU' and 11 more rose buds!" This was developed in connection with the so-called "Sweetest Week" campaign in Ohio. This is a week, endemic to Ohio or a portion of that state, which was developed as an opportunity for those who have been remiss on other occasions such as Valentine's Day, Mother's Day, Father's Day or birthdays, to make amends. Under this campaign, contestants were invited to enter the names of their "sweetest person(s)" who, if selected (and 100 winners were), would be presented with a bouquet of a dozen roses. This campaign featured advertisements in the Cleveland Plain Dealer, the largest newspaper in Ohio, by 10-second television commercials and by streamers or banners bearing the slogan. These streamers, according to testimony of record, were designed to be placed in windows of the florists' shops or other locations in members' stores. [FN3] A copy of a portion of the newspaper advertisement is reproduced below.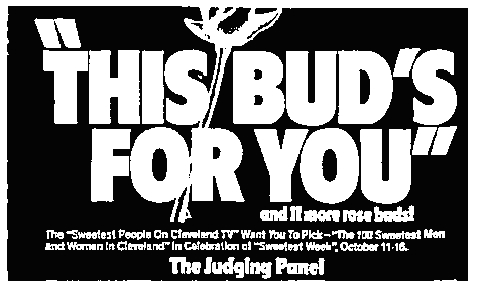 *4 The campaign concluded on October 20, 1982, with an advertisement in the Plain Dealer announcing the winners of the contest.
 According to the testimony of Glenn Gali, a retail florist, member of the association and president of the association in 1982, the full slogan (" 'THIS BUD'S FOR YOU' and 11 more rose buds!") was used during this campaign. Gali dep., 3-8-84, at 21-22. After this campaign in October 1982, there were no further usages of this slogan in that year or in 1983. Gali dep., 2-11-92, at 42.
 While Mr. Gali testified (3-8-84 dep., at 42) that applicant had no intent to use this slogan again, applicant did indeed use this slogan again in 1984, shortly prior to the filing of this application. During the October 1984 Sweetest Week Campaign, applicant again used the slogan THIS BUD'S FOR YOU but without the additional words "and 11 more rose buds". This campaign also featured streamers and, unlike the earlier campaign, was promoted either as the name of applicant's contest or possibly a reference to the dozen roses that were delivered to the 100 winners of the Sweetest Person contest. In this regard, we note what Mr. Shaffer stated at page 40 of his deposition:
   A. I mean, we were talking about a dozen roses, so I had to establish THIS BUD'S FOR YOU plus 11 other rosebuds for a dozen roses. That was the only reason for the 11 other rosebuds.
We do not believe that this slogan, seen in the eyes of a typical customer who may have purchased flowers in a members' store at that time, would have been considered as a trademark for the flowers he or she had just purchased in that store.
 However, we believe that applicant's use of the truncated slogan THIS BUD'S FOR YOU in October 1984 was trademark use. Contrary to opposer's argument, we believe that the use of this slogan on streamers displayed in those stores can be considered a display associated with the goods. In this regard, we note that, while the slogan was used on a banner which mentioned the Sweetest Week, it also prominently displayed the words "Fresh Floral Blossoms." Unlike the inherent meaning of the entire slogan used in 1982, this slogan on a streamer did not, in our view, promote only the Sweetest Week contest but also identified flowers in the stores where it may have been displayed. See In re Marriott Corp., 459 F.2d 525, 173 USPQ 799 (CCPA 1972) and In re Bright of America,, 205 USPQ 63 TTAB 1979).
Use in Commerce
 However, while we find that this use was sufficient to constitute trademark use in connection with fresh-cut flowers, we find other serious problems with applicant's use and its application.  First, opposer's argument that the slogan was not used in commerce is well taken. The testimony of record reveals only that this banner was displayed in a single flower shop (Gali's Florist Shop) in October 1984. While there is testimony that two streamers were distributed to all of the member flower shops at the time, we have no direct testimony that the streamers or posters were in fact displayed in those shops. Moreover, even if they were displayed, we would have to make an inference that, during the week in question, sales under the mark were more than limited local sales but were in fact sufficient to affect commerce and therefore permit the mark to be federally registered. That evidence is lacking. In other words, this record is simply insufficient to show that, for example, the slogan was used in connection with wire service orders or that sales of goods affecting commerce were made under the mark. [FN5]
Ownership and Control
  *5 Even more serious than this problem is the question of ownership. Opposer argues that applicant, the association, is not the proper applicant in this case. Opposer has pointed out that applicant does not itself sell fresh flowers but rather is an association of members who do. If anything, the trademark identifies flowers of the individual retailers and not the goods of applicant itself. We say this in light of the testimony of record that applicant does not exercise any control over the type or quality of the flowers that are sold by its members and that there are no standards of quality for the members to observe when selling goods under the mark. Nor is there any license agreement between applicant and the members of the association. Accordingly, and contrary to applicant's argument that use by the members is use by applicant, we believe that any use by the members could not and does not inure to the benefit of applicant itself. [FN6]
Likelihood of Confusion
 There is no question that the mark sought to be registered and opposer's well-known trademark and slogan are identical in sound and appearance. The respective slogans may convey different meanings, however, to those purchasers who realize the significance of the term "BUD" in applicant's mark (referring to an undeveloped flower) versus the significance of that term in opposer's mark (referring to a brand of beer). There is also no question that applicant's flowers and opposer's beer are different products which travel in different channels of trade.
 Having said this, however, we do agree with opposer that confusion is likely, in view of the fame of its slogan, as demonstrated by the survey opposer has made of record, as well as other testimony and evidence relating to the use and promotion of opposer's slogan. Applicant's intent to capitalize on the familiarity of this slogan is also significant.
 The fame is supported by the survey conducted on behalf of opposer. In that mall-intercept survey, 472 respondents were randomly selected with approximately an equal number viewing either a ten-second television commercial or a July 1984 newspaper advertisement appearing in the Plain Dealer. Each person was asked who they believed sponsored or promoted the advertisement in question and what products or services they believed were sold by the business which sponsored or promoted the advertisement. The survey concluded that the slogan is often associated with opposer and, as used in the advertisements, is perceived by a significant number to be sponsored or promoted by opposer. Approximately 54 percent of the viewers who saw the television commercial and about 14 percent of those viewing the newspaper advertisement believed that opposer had a connection with the advertisements.
 In addition to this survey, there is ample evidence supporting the renown of this slogan. The fame of opposer's mark is, of course, a significant factor to be considered. Specialty Brands, Inc. v. Coffee Bean Distributors, Inc., 748 F.2d 669, 223 USPQ 1281, 1284 (Fed.Cir.1984). Also, as noted above, applicant's officials have admitted awareness of opposer's slogan at the time of its adoption and use. Indeed, the district court concluded that applicant's intent in selecting the slogan was "undoubtedly to capitalize on its familiarity and popularity." Anheuser-Busch, Inc. v. The Florists Association of Greater Cleveland, 224 USPQ at 496. We also believe that opposer's licensed use of this slogan on posters and greeting cards in association with a single rosebud is significant. This use presented the slogan with a clear double entendre.
  *6 At the oral hearing, applicant argued that its use of this slogan may be considered a "parody," at most only conjuring up in the minds of potential purchasers opposer's use of this slogan. We believe, however, that the survey evidence as well as opposer's licensing activities under this mark show that the use of this slogan will do more than that: purchasers seeing applicant's flowers offered for sale under this slogan are likely to believe that the flowers are being offered under the sponsorship of opposer. See Tiffany & Co. v. Classic Motor Carriages Inc., 10 USPQ2d 1835, 1842 (TTAB 1989) ("Our determination of likelihood of confusion must be based ... on the perception of potential purchasers as to whether there is an association or connection of source because of the manner in which the purchasing public encounters applicant's goods and opposer's goods ...").
 For all of these reasons, we believe that confusion is likely.
 Decision: The opposition is sustained and registration to applicant is refused.
R.L. Simms
R.F. Cissel
E.J. Seeherman
Members, Trademark Trial and Appeal Board
FN1. Application Serial No. 73/511,412, filed November 30, 1984. In the application applicant has disclaimed the term "BUD'S" apart from the mark as shown.
FN2. The court also stated that a survey (about which we shall make further comment later in this opinion), which concluded that opposer's slogan THIS BUD'S FOR YOU was famous, is "an irrelevant fact." The court noted that a larger percentage of the interviewees realized that applicant's advertisements in question were for flowers and not for beer.
FN3. Mr. Gali testified that, in his store, the streamer was displayed behind the sales counter and near the cash register.
FN5. We have no question that retail flower shops typically do business which affects commerce. There is adequate testimony of record to show that a florist's activities typically involve ordering flowers from across state lines and arranging for flowers to be delivered elsewhere at a customer's request by use of wire services. There is also testimony that a florist sometimes receives direct orders from out-of-state customers to deliver flowers locally. However, the question which we have here is whether this record shows that during a relatively short time period there was commercial activity under the mark which affects commerce.
FN6. While the issue of the type of mark involved has not specifically been tried, it appears to us that this application should have been one to register the phrase as a collective mark. See Section 45 of the Trademark Act, 15 USC 1127. There, the term "collective mark" is defined as a trademark or service mark used by members of a cooperative, an association or other collective group or organization. A collective trademark, in other words, is a mark adopted by an association or other cooperative group for use by members, who use the mark to identify their goods. The "collective" does not sell goods under the mark but may advertise or otherwise promote the goods sold by members. See Aloe Creme Laboratories, Inc. v. American Society for Aesthetic Plastic Surgery, Inc., 192 USPQ 170, 173 (TTAB 1976). See also TMEP Section 1302. A collective mark is used by all members of the group and the collective organization holds title to the mark for the benefit of the members. For example, an agricultural cooperative which does not sell its own goods may promote the goods and services of its members. It may also advertise the goods of its members under a mark. See TMEP Section 1303. Even in the case of a collective trademark, however, applicant must exercise legitimate control over the use of the mark in commerce by its members. See Section 4 of the Trademark Act, 15 USC 1054, and TMEP Sections 103, 1302 and 1303.01. Accordingly, if applicant should eventually succeed on the merits of this case on appeal, it is recommended that this case be remanded to the Examining Attorney to consider this issue. See Trademark Rule 2.131.