Trademark Trial and Appeal Board
Patent and Trademark Office (P.T.O.)
*1 AMSTED INDUSTRIES INCORPORATED
v.
WEST COAST WIRE ROPE & RIGGING, INC.
April 23, 1987
Hearing: November 18, 1986
 Opposition No. 70,015, to application Serial No. 438,554, filed August 9, 1983.
Fred P. Kostka and Charles E. Bouton for Amsted Industries Incorporated
Harris Zimmerman for West Coast Wire Rope & Rigging, Inc.
Before Allen, Simms and Krugman
Members
Member
 West Coast Wire Rope & Rigging, Inc. (hereinafter, 'West Coast Wire' or  'applicant') has applied for registration of the mark depicted below for 'wire rope.' [FN1]

In the drawing, the mark has been lined for the colors yellow and green and the mark is described in the application as consisting of 'one green strand and one yellow strand forming a structural part of the wire rope.'
 Amsted Industries, Incorporated (hereinafter, 'Amsted' or 'opposer') has opposed registration alleging long prior manufacture and sale of wire rope having 'a distinguishing color applied to a strand thereof to produce a helical stripe of said distinguishing color . . . which . . . is intended to serve as an indicator of the origin of the wire rope . . .'; that the green and yellow colors employed by West Coast Wire in its green and yellow strand trademark so resemble the distinguishing color used by opposer as to be likely when applied to applicant's wire rope to cause confusion, or to cause mistake or to deceive; that opposer and its predecessor in interest, Broderick & Bascom Rope Company, have for many years preceding applicant's alleged date of first use manufactured and sold wire rope having the 'color yellow applied to a strand thereof to produce a helical yellow stripe on the wire rope . . . which yellow stripe is intended and is recognized . . . as an indicator of the origin and trademark of opposer'; that opposer is the owner of a registration in this office of the design of a yellow strand on wire rope for 'wire rope' [FN2] and of the word mark YELLOW STRAND for the same goods; [FN3] that applicant's wire rope bearing the green and yellow strand trademark is an article of commerce that is similar to, moves in the same trade channels, and is promoted and sold to or otherwise competes for the same kind of customers as opposer's wire rope bearing a yellow stripe design, and is likely to cause confusion, or to cause mistake, or to deceive; and that the 'color yellow on wire rope strands and the colors yellow and green on spools of such wire rope have been used, advertised and promoted sufficiently by opposer, its operating divisions and predecessors to cause both colors to be regarded as the property of opposer in the wire rope field, and use of the color yellow and the combination of yellow and green by applicant on wire rope is intended to have and will have the effect of creating confusion between applicant's goods and opposer's goods.' In its answer, West Coast Wire denied all of the essential allegations of the opposition as set forth above and asserted a number of affirmative defenses. [FN4]
  *2 The record in this case consists of the file of the opposed application and trial testimony on behalf of opposer, including thirty-one numbered exhibits introduced in connection with this testimony. Both parties filed briefs and both participated in an oral argument of the issues at a hearing held for this purpose.
 Amsted and its predecessor, Broderick & Bascom Rope Company, have used the trademarks YELLOW STRAND and the design of a yellow colored strand on wire rope since, at least, September 1964 (the period of employment by opposer of trial witness Donald A. Burns who was for many years the general sales manager of Broderick & Bascom). During the five year period immediately preceding the date of Burns' testimony, the Broderick & Bascom Company volume of wire rope sales was in excess of $10,000,000 per year representing annual sales in excess of 14 million feet of wire rope. The word mark YELLOW STRAND is employed with all of the wire rope sold and the yellow strand design is on approximately ninety percent. Sales of wire rope so marked have been national in scope and to essentially all types and classes of wire rope users. Promotion and advertising of YELLOW STRAND brand wire rope with a yellow strand design trademark has been continuous and extensive. Both of Amsted's witnesses (the other being Harold K. Spaulding, sales and marketing manager for Southern California, Southern Nevada and Hawaii) also testified to opposer's long continuing use of reels on which the wire rope is wound bearing the colors yellow and green, again, at least since September 1974, according to Burns. Numerous documentary exhibits corroborate the recollections of the witnesses concerning opposer's use of its trademarks and the yellow and green reel colors. These documents depict opposer's wire rope and the reels in a variety of settings and the yellow and green motif is and has long been extensively used in opposer's advertising and sales promotional literature. [FN5]
 A rather unusual aspect of how color is generally applied to one or more strands of wire rope as an industry practice was the subject of considerable testimony and evidence. Even though the third-party registrations attached to applicant's brief are not in evidence, supra, note 4, there is no doubt, on opposer's record, that a number of suppliers of wire rope utilize one or more distinctively colored wire rope strands to serve as indications of origin and have registered these indicia as trademarks. [FN6] The coloring of the strands of the steel wire--in its normal state 'steel' colored--, is accomplished by adding color to the lubricant which covers one or more of the strands. [FN7] As the testimony also relates, what happens appearancewise to wire rope during normal usage by customers is that movement under pressure of the wire rope in the customer's equipment causes uncolored lubricant (usually black) to smear over the outer surface. As a result, the color strand trademarks tend to be obscured.
  *3 Although the point was disputed by applicant, opposer's evidence also establishes that a strand having a light color is less apt to be obscured by smearing than a dark color. Thus, the visibility of the yellow strand marking on opposer's wire rope is more apt to be retained, whereas strand colors less visible than yellow, e.g., dark greens, tend to be obscured to greater degree by smearing of the lubricant.
 Since applicant put on no witnesses and introduced no evidence, the only admissible information in the record before us disclosing the characteristics of West Coast Wire's green and yellow strand trademark are the drawing in the application file, the description of the mark, and photographs submitted by applicant as specimens. [FN8] We do not know why neither applicant nor opposer introduced actual examples of their products as exhibits in this proceeding, but we do not have any before us. In this regard, the photographic specimens in the application file are of no assistance whatsoever. These photographs are so poor in quality, whether due to fading or some other cause, that it is impossible even to verify from them whether the colored strands are green and yellow, much less to determine the actual shade or hue of the colors in the photographed section of wire rope.
 While the absence of any reliable evidence concerning the actual color of the green and yellow strand trademark as it is used in the wire rope sold by applicant may be deemed unfortunate, this situation is also a consequence of our present rules and practice in regard to registration of this kind of subject matter and in determining registrability questions in inter partes proceedings. Thus, when determining likelihood of confusion questions in inter partes proceedings, it is the mark as it has been presented for registration which is in issue, irrespective of how that mark may be presented in its marketplace setting. E.g., Kimberly-Clark Corp. v. H. Douglass Enterprises, 774 F.2d 1144, 227 USPQ 541, 543 (Fed. Cir. 1985). The same principle has been applied by this Board in cases involving color trademarks. For example, in Youngstown Sheet & Tube Company v. Missouri Rolling Mill Corporation, 133 USPQ 661 (TTAB 1962), an opposition against registration of an orange band encircling the top of a fence post by the registrant of a mark comprising a 'band of orange paint' encircling its metal pipe and tubing, we held as follows:
   The marks of the parties being orange bands must, notwithstanding any differences in shade or configuration, be considered identical.
It appears that we may have departed somewhat from the above holding when we have had before us actual samples of the products to which the colors were applied. For example, in In re Hodes-Lange, Corporation, 167 USPQ 255 (TTAB 1970), we reversed a refusal to register for 'ampuls formed of glass' a mark comprising a yellow band encircling the bulb of the ampul on the basis of a prior registration covering identical goods comprising a gold bank similarly applied. In this case, rejecting the Examiner's analysis that because 'yellow' and 'gold' are extremely similar in tone--so much so that the Office has designated the same lining for officially indicating both colors--, the contemporaneous use of these colors by different proprietors is likely to result in confusion, the Board compared samples supplied by applicant of its ampuls and those manufactured by registrant and concluded based on such comparison that the marking of registrant's ampuls were a bronzy gold whereas those of applicant were brilliant yellow. Based on this conclusion, we held there was no likelihood of purchaser confusion and reversed the refusal. We also looked at actual samples of the products to which the color was applied in Youngstown Sheet & Tube Company v. Armco Steel Corporation, 170 USPQ 162 (TTAB 1971). In that case, a mark for 'metallic fence posts' consisting of 'coloring the entire post, except for a short portion (about three inches) of the upper end, bright orange, said short portion being colored slate grey,' was held not likely to be confused with Youngstown's registered mark consisting of a band of orange paint applied transversely around its metal pipe and tubing. In determining that issue, the Board had before it one of Armco's fence posts and a length of Youngstown's pipe; and three color photographs of Armco's fence posts, as they actually appeared in the ground. Id. 170 USPQ at 163, note 2. However, this was not a departure as far as the colors were concerned. Indeed, there is no discussion in the opinion as to whether applicant's orange differed in shade from the orange band mark of opposer. Rather, the decision that confusion was not likely turned on the finding that while opposer's mark was a band extending transversely around the pipe at any desired point, applicant's mark was simply an orange colored fence post with a grey colored tip or band around the top. The decision was also strongly influenced by the absence of evidence of actual confusion notwithstanding that the marks had coexisted in the same marketplace setting for a period of eight years. Neither is Wire Rope Corporation of America, Inc. v. Secalt S.A., 196 USPQ 312 (TTAB 1977), a departure from the principle that color of the marks allegedly in conflict is determined according to the marks' color indicated in the respective application for registration and/or registration. In Wire Rope, we held that applicant's red and yellow alternating strand in its galvanized steel cable was not likely to be confused with opposer's RED-STRAND brand and its design mark consisting of a red stripe applied to one or more strands of wire rope. In this case, it was the fact that a primary color (i.e. yellow) had been added by applicant that was determined to be distinguishing, not any dissimilitude of the reds actually used by the parties. Indeed, the Board rejected any such comparison in its opinion, at 196 USPQ 314:
    *4 The record clearly supports opposer's prior use both of a red strand and the literal equivalent, 'RED-STRAND' as trademarks for wire rope of its manufacture; . . . that notwithstanding applicant's assertions as to the brightness of the color red because of the lubrication process employed on the wire rope, opposer's registrations describe the mark as red, the mark 'RED-THREAD' enhances this description, and opposer's markings on its reels as well as in its product literature unquestionably depicts a readily discernible red cord; and that as a consequence of extensive use and presentation of opposer and its predecessor of the red strand of its wire rope as well as of the word mark 'RED-STRAND' over a considerable period of time, it is an inescapable conclusion that distributors and users of a red strand in wire rope as identifying goods emanating exclusively from opposer with the result that opposer possesses a valuable goodwill and property right therein.
 Obviously, having no reliable evidence in the case before us concerning the actual color of applicant's green and yellow strand trademark as it has been used, we have no choice as to whether we should or should not depart from the principle that the description and drawing control. However, that circumstance is not unique to this case because under our practice, an applicant for registration is not obliged in defending against an opposition to registration to submit any evidence in the case, in which event, the burden is still on opposer to establish that it has standing to oppose and that allowance of the registration based on what the application file discloses would be contrary to the statute. See, e.g., Balston, Inc. v. Finite Filter Co., 212 USPQ 210 (TTAB 1981). Thus, in the instant case, as well as in others which may come before us, we may only have the drawing and the description of the mark as set forth in the application to evidence the characteristics of the mark, including the colors, to compare with opposer's registration and/or use in determining the likelihood of confusion issue.
 In such cases, the color features of the mark are definable under our Rules of Practice, 37 CFR § 2.52(e), by the linings specified for twelve designated colors according to a chart set forth below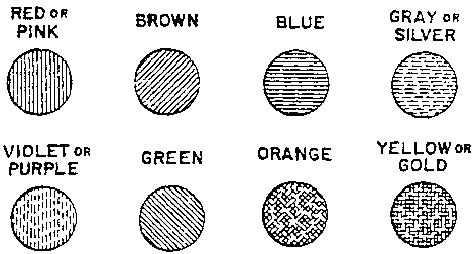 It should be noted that certain linings are usable for two colors, but the description pursuant to Trademark Rule 37 CFR § 2.35 determines the particular color for which registration is desired. Thus, in Hodes-Lange, supra, 167 USPQ at 256, whereas the mark of the applicant was lined for 'YELLOW or GOLD', in the description, the mark was described as comprising a yellow band. Similarly, in the same case, in the cited registration, although similarly lined, the mark was described as comprising a gold band. However, other than the twelve possibilities indicated by lining and description, there is no provision in our rules for indicating particular color shades or hues. Consequently, since applicant here has introduced no other evidence, the likelihood of confusion issue must be determined based on the same presumption that we applied in Youngstown Sheet & Tube v. Missouri Rolling Mill, supra, i.e., that the yellow color sought to be registered by West Coast Wire in respect of its wire rope can be any yellow color, including that which is identical to the yellow color used by Amsted. Additionally, we must presume that the green color in the green and yellow strand mark which West Coast Wire seeks to register for its wire rope may be any shade of green, irrespective of the shade or hue of that color as it is actually used. The significance of this standard which we must, of necessity, apply in the case before us, is that the question whether the marks so resemble one another as to be likely to cause confusion depends upon which of the twelve indicated colors are selected by the applicant vis-a-vis the color or colors which opposer has used or registered. This very question came up in Youngstown Sheet & Tube Company, v. Tallman Conduit, 149 USPQ 656 (TTAB 1966). In that decision, Member Shryock, for a unanimous Board, wrote as follows:
    *5 While the record herein indicates that opposer is not claiming a monopoly for color markings on pipes or that it would be entitled to any such monopoly, it does appear from the record that applicant's position that the color gold is readily distinguishable from the color orange is not well taken. Reference to a standard unabridged dictionary shows that the colors orange and gold are both combinations of red and yellow and that the color orange may vary in its hue, saturation and brilliance. Further, opposer's record reveals that its color mark does vary greatly, both as used and in the advertising thereof, from a deep reddish orange to a light orange. The latter color is virtually indistinguishable from the color gold.
149 USPQ at 657-8. Similarly, in the case before us, the color of the green colored strand subject of West Coast Wire's application may vary in its hue, saturation and brilliance. This is highly significant because the color green is that part of the spectrum lying between blue and yellow, and at the yellow end of spectrum there are only insignificant differences between the hues designated as greenish yellow, yellow green, and yellowish green. See, G & C. Merriam, WEBSTER'S NEW INTERNATIONAL DICTIONARY, 449 and plate opposite (Unabridged, 1976). Thus, the green of applicant's mark might be yellowish green, in which case the difference between it and registrant's yellow strand trademark would be insignificant when the wire rope is viewed by a prospective purchaser or by a user.
 In arguing that confusion is likely in the case before us, opposer has emphasized four points: (i) that applicant, being a newcomer, had a duty to select a mark which does not impinge upon the rights established by other existing participants in the same area of commerce; (ii) that the pairing of yellow and green strands by applicant happens to be a pairing of colors in which the yellow color predominates; (iii) that the green color selected by applicant is apt to be unnoticed in many viewing situations because of the smearing of the lubricant routinely applied to wire rope when it is put to use; and (iv) that opposer's use of green in combination with yellow on reels and in advertising and promotional pieces constitutes a trade dress by which opposer has identified itself to the wire rope trade.
 None of the latter three arguments is persuasive. Whereas opposer may consider yellow to be dominant as compared to green there is no objective evidence that this is the fact in the record before us and the argument seems only to be based a natural bias of opposer that, since it uses yellow, yellow must be the most noticeable color in any other setting.
 We are also not persuaded by the fact that the green color may be less noticeable when there is smearing of the colors by lubricant applied to the wire rope in its use. The smearing effect occurs and would have an effect on the confusion issue only after purchase. While we are not, of course, limited in our determination of the issue to confusion of purchasers and may, in appropriate circumstances, also consider the likelihood of mistake in the products' use, see, e.g., Hercules Incorporated v. National Starch and Chemical Corporation, 223 USPQ 1244, 1247, note 10 (TTAB 1984), we nevertheless do not believe that the possible obscuring of the color trademarks can fairly be treated as a factor supporting the likelihood of mistake in the products' use. The reason is clear from the testimony of opposer's witness Spaulding on cross-examination. In discussing the smearing effect, Spaulding indicated that sometimes, after black lubricant of the kind used by Broderick & Bascom, has smeared over the surface of the wire rope following its use, it is necessary to get close to the wire rope in order to see the color and even, in some cases, to open the wire strands up with a spike in order to see the color marking in between the strands. (Spaulding deposition, 50-51, XQ 240 to XQ246.) It is apparent from this testimony and from other testimony of both witnesses that users of wire rope are careful in the interest of safety when using these products. Thus, where there is doubt about the wire rope that is being used, a close inspection would be made in order to ascertain the kind of wire rope to be used for a particular purpose. This would also be the case in distinguishing between different types of rope manufactured by opposer. Thus, opposer sells both the YELLOW STRAND brand wire rope, marked with a single yellow strand, and POWERSTEEL wire rope, marked with two adjacent yellow strands. POWERSTEEL wire rope is expressly designed for heavy duty applications. Consequently, it would be important for users of Broderick & Bascom's wire rope to be able to distinguish between the wire rope having a single yellow strand and the same product having the two yellow strands in order to be sure not to use wire rope of insufficient strength. Obviously, black lubricant on opposer's own wire rope might also lead to confusion between the two types except for the careful inspection which discriminating users would make, as Mr. Spaulding testified. Accordingly, we do not believe mistake in the products' use is likely.
  *6 Finally, while we agree that opposer has established on the record that its use of green as part of the trade dress for its product, i.e. on the reels, and in advertising and promotional materials has been extensive, this aspect would only be relevant to the question of registration to the extent that the trade dress was a factor in corroborating bad faith on the part of applicant in adopting its green and yellow strand trademark. Thus, while an allegedly confusingly similar trade dress might give rise to a claim of unfair competition based on a collocation of all features, including the marks and the associated trade dress, such a claim is beyond the jurisdiction of this Board. See, e.g., Stouffer Corporation v. Health Valley Natural Foods, Inc., 1 USPQ 2d 1900, 1903, note 5 (TTAB 1986). As for intent, we find no evidence in this record to support an inference that applicant's green and yellow trademark was adopted in bad faith. Accordingly, there is nothing to corroborate, and the trade dress is otherwise irrelevant.
 This leaves us with the primary argument that applicant's selection of green and yellow is, per se, not registrable in view of opposer's prior rights in yellow. In rebuttal of this argument, applicant relies heavily on the decision of this Board in Wire Rope Corporation America, Inc. v. Secalt S.A., 196 USPQ 312 (TTAB 1977). In that case, we held as follows:
   Insofar as the nature of the use of colored strands in the wire products field is concerned, it is not disputed that it is the custom, as previously indicated, for manufacturers to use different colors for application to their wire rope or cable for identification purposes and that purchasers do recognize the individual colors as source indicia. Considering, however, the limited number of prime colors available for use, it is apparent that a new manufacturer of wire rope, if he is to follow the practice in the trade as he has a right to do, is obligated to utilize secondary colors or combinations of colors, as applicant has done, to identify and distinguish his goods in the trade. If the latter course is chosen, it is likely that one of the colors would be that previously adopted and utilized by itself by a competitor on its goods. This color selection process would normally be known to purchasers and prospective purchasers of wire rope who, because of the very character of the product and the uses to which it is generally applied, would be informed and knowledgeable persons making their selection with care and deliberation. To this scenario must be added our view that applicant's mark is a combination of the colors red and yellow; that the commercial impression is engendered by the use of the color yellow as well as by the color red; and that, in conclusion, applicant's mark is sufficiently different in its field from opposer's 'RED-STRAND' mark so as to preclude confusion in trade as to the source of the goods sold thereunder.
*7 196 USPQ at 315.       Applicant argues that if the addition of yellow to red in the mark of the junior party was sufficient to avoid confusion in the above case, by the same rationale, the addition of green to yellow here should also be sufficient. As both parties are aware, the decision of the Board in Wire Rope was vacated by the Court of Customs and Patent and Appeals after an appeal by opposer to that court had been docketed. This resulted in a remand of the case to the Board and the granting of a motion by opposer dismissing the opposition with prejudice against applicant pursuant to Trademark Rule 37 CFR § 2.135, a result opposite from that reached by the Board on the merits. This disposition of Wire Rope raises a question whether the Board decision has any precedential effects. See, e.g., Swingline, Inc. v. I.B. Kleinert Rubber Co., 339 F.2d 282, 158 USPQ 341 (CCPA 1968); see also, Hiram Walker & Sons, Inc. v. Castlewood International Corp., 84 F.R.D. 498, 198 USPQ 191 (CCPA 1978). In the case before us, as might be expected, the parties have taken opposite points of view on this question. However, irrespective of whether the previous decision is or is not precedential, we find the case distinguishable from the one now before us on its facts. Whereas in Wire Rope the question involved red versus red and yellow, colors which are easily distinguishable from one another, whatever may be their shade, here, since applicant's green might presumptively be yellowish green and considering also the fact that registrant uses two adjacent yellow strands to distinguish its POWERSTEEL wire rope, it is our opinion that confusion is likely between opposer's rope containing two adjacent strands of yellow and applicant's rope containing adjacent strands colored yellow and, presumptively, yellowish green. [FN9]
 Decision: The opposition is sustained and registration to applicant is refused.
D. B. Allen
R. L. Simms
G. D. Krugman
Members, Trademark Trial and Appeal Board
FN1. Serial No. 438,554, filed August 9, 1983, claiming use since June 30, 1983.
FN2. Registration No. 576,187, issued June 23, 1953 to Broderick & Bascom Rope Company; affidavit § 8 accepted, § 15 received; renewed; record title in Amsted pursuant to status and title copy introduced as exhibit 10 during trial testimony of Donald A. Burns, infra. The mark of the registration is reproduced below

and is described in the registration as consisting of the 'yellow marking of one of the helical strands of the rope.' In the drawing, the mark is lined to show the color yellow.
FN3. Registration No. 551,915, issued December 11, 1951, to Broderick & Bascom Rope Company; affidavit § 8 accepted, § 15 received; renewed; record title in Amsted pursuant to status and title copy introduced as exhibit 9 during trial testimony of Donald A. Burns, infra.
FN4. Since applicant took no testimony and introduced no evidence in this proceeding, the affirmative defenses are given no further consideration. For the same reason, the thirty-seven registration copies attached to the answer in reference to one of those pleaded defenses are not evidence of record and have not been considered. See, Trademark Rule 37 CFR § 2.123(1) (1986).
FN5. For example, 1985 'Rigger's Handbook' (exhibit 1)--green and yellow front and back covers and yellow (background) featuring throughout; picture of green and yellow reel on front; 1973 'Rigger's Handbook' (exhibit 2) with the identical coloring; 1985 'Yellow Strand Wire Rope Handbook' (exhibit 3)--green and yellow front and back covers and yellow (background) featuring throughout; picture of yellow and green reel in August 1982 sales brochure (exhibit 4); same (exhibit 11); picture of green and yellow reel and green and yellow masthead in July 1951 issue of 'The Yellow Strand' (exhibit 12); same, Sept. 1950 issue (exhibit 13); picture of green and yellow reel on cover of April 1938 'The Yellow Strand' (exhibit 14); 1966 'Wire Rope Handbook' (exhibit 16)-- green and yellow front and back covers and yellow (outline) featuring throughout, picture of green and yellow reel on cover of 'Yellow Strand Wire Rope Application Handbook' (exhibit 17); same on 1982 print ad (exhibit 18); picture of green and yellow reel with candles in 1976 100th year anniversary ad (exhibits 27a-d); green and yellow tag affixed to reel when shipped (exhibit 28); hard-hat decal depicting green and yellow reel (exhibit 30); and promotional calendars for 1966, 1967, 1969 and 1970, depicting green and yellow reel (exhibit 31a-d). In most of the items on which the reel is depicted, either the yellow strand of opposer's YELLOW STRAND wire rope or the double yellow strand of its POWERSTEEL wire rope is clearly visible.
FN6. This fact was pled by opposer and admitted in applicant's answer (para. 11). It is also demonstrated graphically by opposer's exhibit 11, a four-page brochure of the American Iron and Steel Institute promoting steel wire rope made in the United States of America. In this brochure, twelve brands of different U.S. manufacturers, including Broderick & Bascom's YELLOW STRAND brand, each marked with a single or double colored strand, are depicted.
FN7. Wire rope is lubricated in order to reduce loss of strength due to abrasion of the strands against one another when in use. Additional lubricant must be applied after the original lubricant has squeezed out and rubbed off in use.
FN8. Opposer sought to introduce through witness Spaulding two photographs  (exhibits 6 and 7) of wire rope which appears to have a green and yellow strand. Although Spaulding took the photographs, the only testimony concerning whether the wire rope depicted in the photographs is, in fact, West Coast Wire's wire rope, is inadmissible hearsay. Spaulding's testimony follows:
   By Mr. Zimmerman
   XQ290 Have you seen any reels that didn't have the West Coast name on it?
   A This particular reel that I spotted at Acme [Rigging Supply Co.] didn't.  [The reel referred to in this answer is the one which Spaulding photographed.]
   XQ291 It did not?
   A No, sir.
   XQ292 What did it have?
   A Just said wire rope and had the tag on it.
   XQ And what did the tag indicate?
   A It did not reference to West Coast wire rope or to any other manufacturer that I was able to identify.
   XQ How do you know it was a West Coast product?
   A I was told that it was a West Coast product by Mr. Pete Dunabeck.
   XQ There was nothing on the product itself that indicated to you who the manufacturer or distributor was?
   A No, sir.
   XQ So, therefore, your sole testimony today in connection with this particular incident is based on what someone else told you where the product came from, is that correct?
   A Pretty much so. I was told by Mr. Dunabeck that he had painted out the reference to West Coast wire rope on the reel . . . .
   (Spaulding deposition, 58-59.)
 Confirming Spaulding's testimony, the photographs introduced as exhibits bear no visible markings other than 'Acme Rigging Supply' on what appear to be steel bands holding the wire rope together. There is no other evidence on the point.
 Applicant also objected to use of the photographs to 'fairly represent the appearance of wire rope having such colored strands.' (Opposer's brief, 1; applicant's brief, 3.) In that Spaulding had used a relatively inexpensive 35 millimeter camera, and took the photographs with a flash rather than in natural light, we agree that in addition to the hearsay objection as to whether the wire rope is that of applicant, the photographs would not in any case have been very reliable evidence to show the actual appearance e.g., to show shade or hue.
FN9. It may be added that, whereas we are required to determine the issue before us based on the limited descriptions and lining now provided in our rules of practice, we think that some attention should be given to whether our present practice of lining for color is adequate to contemporary needs. In In re Owens-Corning Fiberglas Corp., 774 F.2d 1116, 227 USPQ 417 (Fed. Cir. 1985), rev'g 221 USPQ 1195 (TTAB 1984), the Court above has expressed confidence in our ability to exercise judgment in determining the registrability of trademarks based on color, taking into account the differences between color shades. Id., 227 USPQ at 421. See, generally, E.R. Henry, 'Right Hat, Wrong Peg: In re Owens-Corning Fiberglas Corporation and the Demise of the Mere Color Rule', 76 TRADEMARK REPORTER, 389 (September-October, 1986). However, this case highlights an inadequacy concerning the factual basis for such analysis, especially where an applicant introduces no evidence as to the particular shade of color which is in use. Indeed, the same inadequacy would be apparent if an opposer, owning a registration of a color mark in one of the twelve colors defined by our rules opposes registration of a color mark of an applicant based on that registration and no other evidence, also a viable option under our practice. It would seem useful in these circumstances for the Board to have before it, at least, satisfactory photographic evidence of what shade is being claimed by an applicant as well as what shade is comprised in an opposer's registration. Of course, the case before us must be determined on the basis of our present practice and rules, subject to whatever limitations they necessarily impose.