Board of Patent Appeals and Interferences
Patent and Trademark Office (P.T.O.)
*1 EX PARTE MOTOO HOZUMI, HIROAKI NOMURA AND YOSHIO YOSHIOKA
Appeal No. 559-94
June 26, 1984
Heard: June 8, 1984
 Application for Patent filed April 27, 1981, Serial No. 257,771. Ethylene Glycol Derivatives.
Harold C. Wegner et al. for appellants
Primary Examiner--Alan L. Rotman
Before Serota, Katz, Goldstein, Lovell and Steiner
Examiners-in-Chief
Examiner-in-Chief
 This appeal is from the examiner's final rejection of claims 1 to 6. Claims 7, 9 and 12 have been withdrawn from further consideration under 37 C.F.R. 1.142(b). Claims 8, 10 and 11 have been indicated as being allowable if rewritten in independent form.
 A copy of illustrative claim 1 is appended to this opinion.
 There are no references relied on by the examiner on appeal.
 Claims 1 to 6 have been finally rejected as being improper Markush claims. We shall not affirm this rejection.
 The judicially created rejection of claims for 'improper Markush grouping' has most recently been discussed by the Court of Customs and Patent Appeals (the predecessor to our present reviewing court, the Court of Appeals for the Federal Circuit) in the case of In re Harnisch, 631 F.2d 716, 206 USPQ 300 (CCPA 1980), relied on by the examiner. The opinion in that case fairly thoroughly reviewed the history of this type of rejection and set forth, at least implicitly, some guidelines for determining whether or not a Markush group is proper. Broadly, the determinative factor was held to be whether there existed 'unity of invention' or whether the claims were drawn to a collection of 'unrelated inventions.' Specifically, the claims in that case were drawn to a class of compounds all of which were both disclosed and claimed as being 'useful as dyestuffs.' All of them were also both disclosed and claimed as being 'coumarin compounds.' Thus, all of the claims had in common a functional utility related to a substantial, structural feature disclosed as being essential to that utility.
 The court was careful to point out that cases of this type are decided on their facts on a case-by-case basis. When we examine the facts in this case, we find that, as was the case in Harnisch, there is a substantial structural feature of the class of compounds claimed disclosed as being essential to at least one disclosed utility, e.g., antimycotic activity. As can be seen from the copy of claim 1 appended to this opinion, the compounds claimed are phosphoric acid diesters in which one esterifing moiety is derived from a poly(ethylene glycol) monoether and the other is derived from a beta-aminoethanol. [FN1] The molecular weight, i.e., the number of repeating oxyethylene units in the poly(ethylene glycol) ether moiety, can vary over a fairly broad range. The etherifying group can also vary in both molecular size and substitution. Possibly the greatest degree of variation occurs among the permitted substituents on the nitrogen atom of the aminoethanol moiety. The class recited is extremely broad. However, in view of the relatively large proportion of the structure of the compounds in the claimed class which is common to the entire class, we find that the breadth represented by the three above discussed variables does not derogate from the unity of invention in this case.
  *2 We wish to reiterate that cases of this type must be considered on a case-by-case basis and that application of the guidelines set forth in Harnisch to different facts could result in a different outcome.
 Claims 1 to 6 have been finally rejected under the first paragraph of 35 U.S.C. 112 as being based on a non-enabling disclosure. The examiner has catalogued the numerous variations possible within that portion of appellants' structural formula presented by R1, i.e., the glycol ether moiety, but has not provided any specific reasons to believe that such variations would create any difficulty for one of ordinary skill in the art to prepare the relevant compound using the general synthetic procedures disclosed at pages 3 to 6 and illustrated in the working examples. Thus, there is no evident basis for the examiner's holding of lack of enabling disclosure.
 Although it is not perfectly clear, it appears that the examiner's rejection under 35 U.S.C. 112 is also based on an asserted lack of enablement with respect to the utilization of the entire genus disclosed in the antitumor utility disclosed. However, several other utilities are disclosed, and it is not necessary that all of the compounds claimed be useful for every utility disclosed in an application.
 The decision of the examiner is reversed.
BOARD OF APPEALS
Saul I. Serota
Examiner-in-Chief
Murray Katz
Examiner-in-Chief
Melvin Goldstein
Examiner-in-Chief
Charles N. Lovell
Examiner-in-Chief
Arthur J. Steiner
Examiner-in-Chief
FN1. In the claim, the compounds are represented as internal phosphate salts wherein the nitrogen of the aminoethanol moiety is part of an ammonium group. However, for simplicity of description, we have described the structure as though it were the one represented as Formula I' at page 2 of the specification.
 1. A compound of the formula: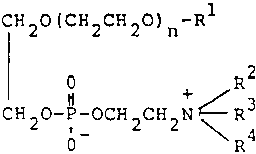 wherein n is an integer of 1 to 15;
   R1 is C6-26 alkyl, C6-26 alkenyl or C6-26 alkynyl, each of said groups being unsubstituted or substituted by hydroxyl, mercapto, amino, oxo, carbamoyl, carboxyl, halogen, C3-7 cycloalkyl or phenyl; and R2, R3 and R 4 are independently hydrogen or C1-5 alkyl, or ??Illegible Text?? represents cyclic ammonio selected from the group consisting of pyridinio, oxazolio, thiazolio, pyridazinio, quinolinio, isoquinolinio, N-C1-4 alkylmorpholinio and N-C1-4 alkylpiperazinio, each of said groups being unsubstituted or substituted by C1-4 alkyl, hydroxyl, hydroxyethyl, aminoethyl, amino, carbamoyl or ureido, or a pharmaceutically acceptable salt thereof.
<< Return to Board of Patent Appeals and Interferences Index